Project omschrijving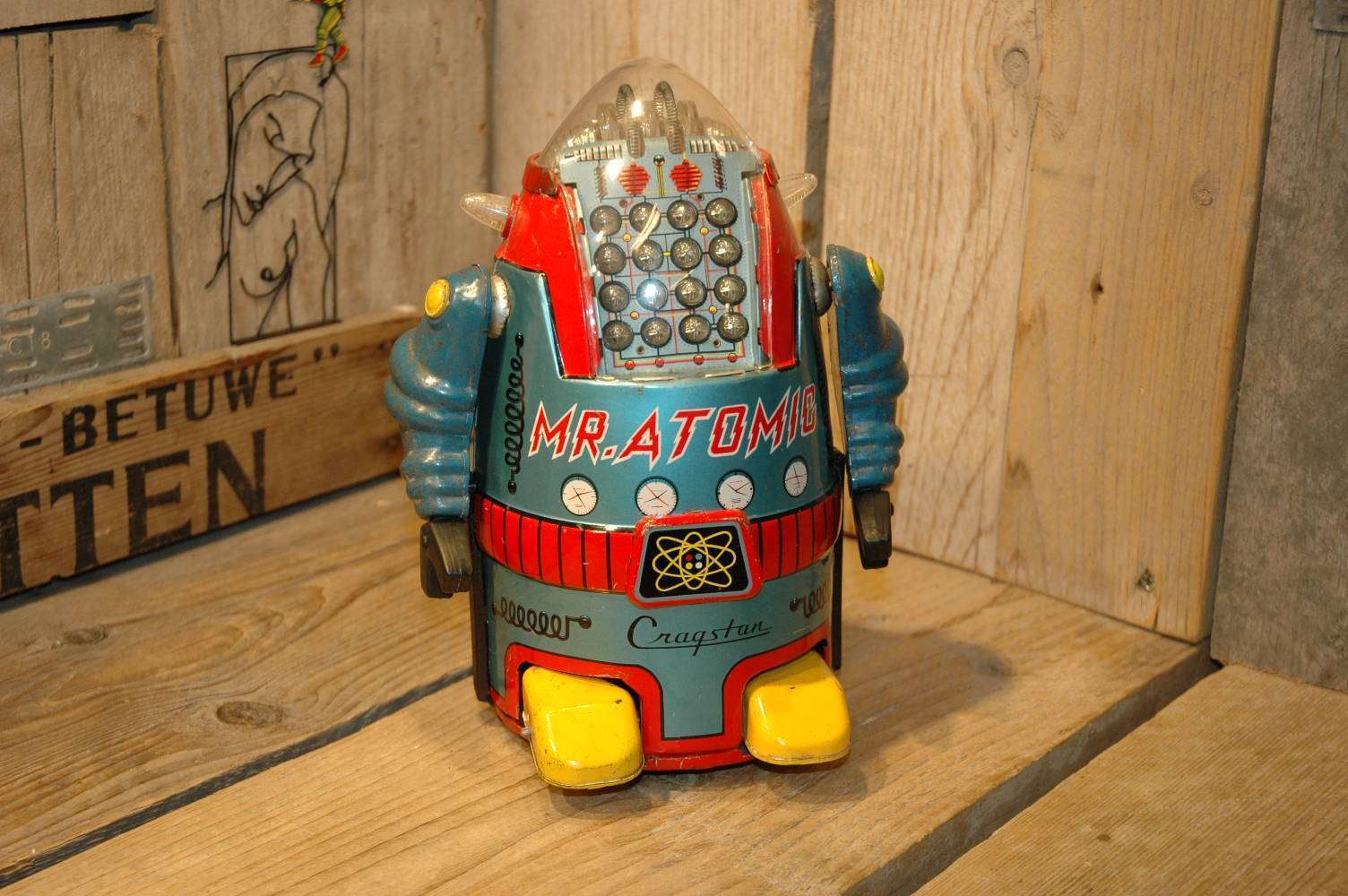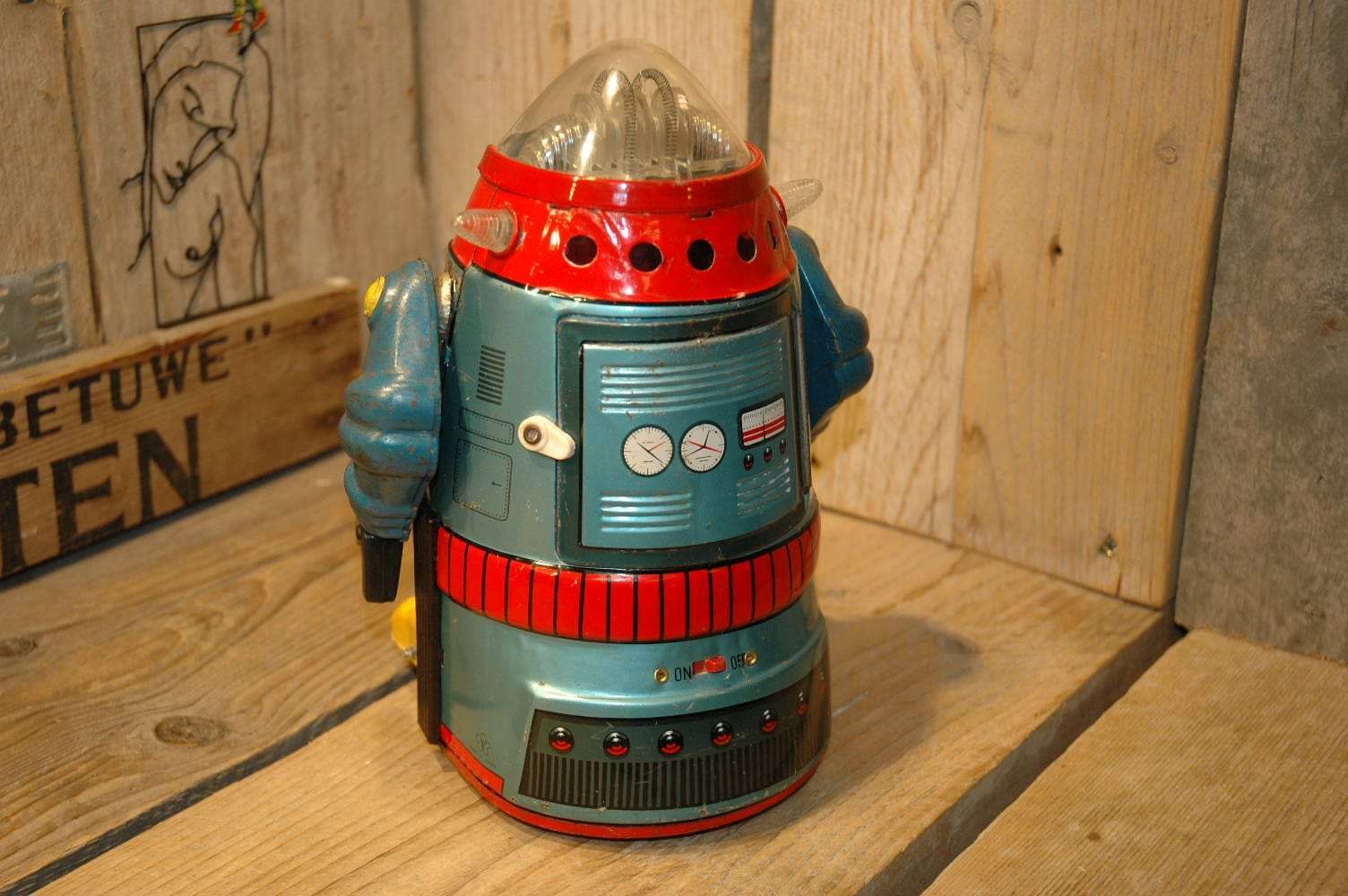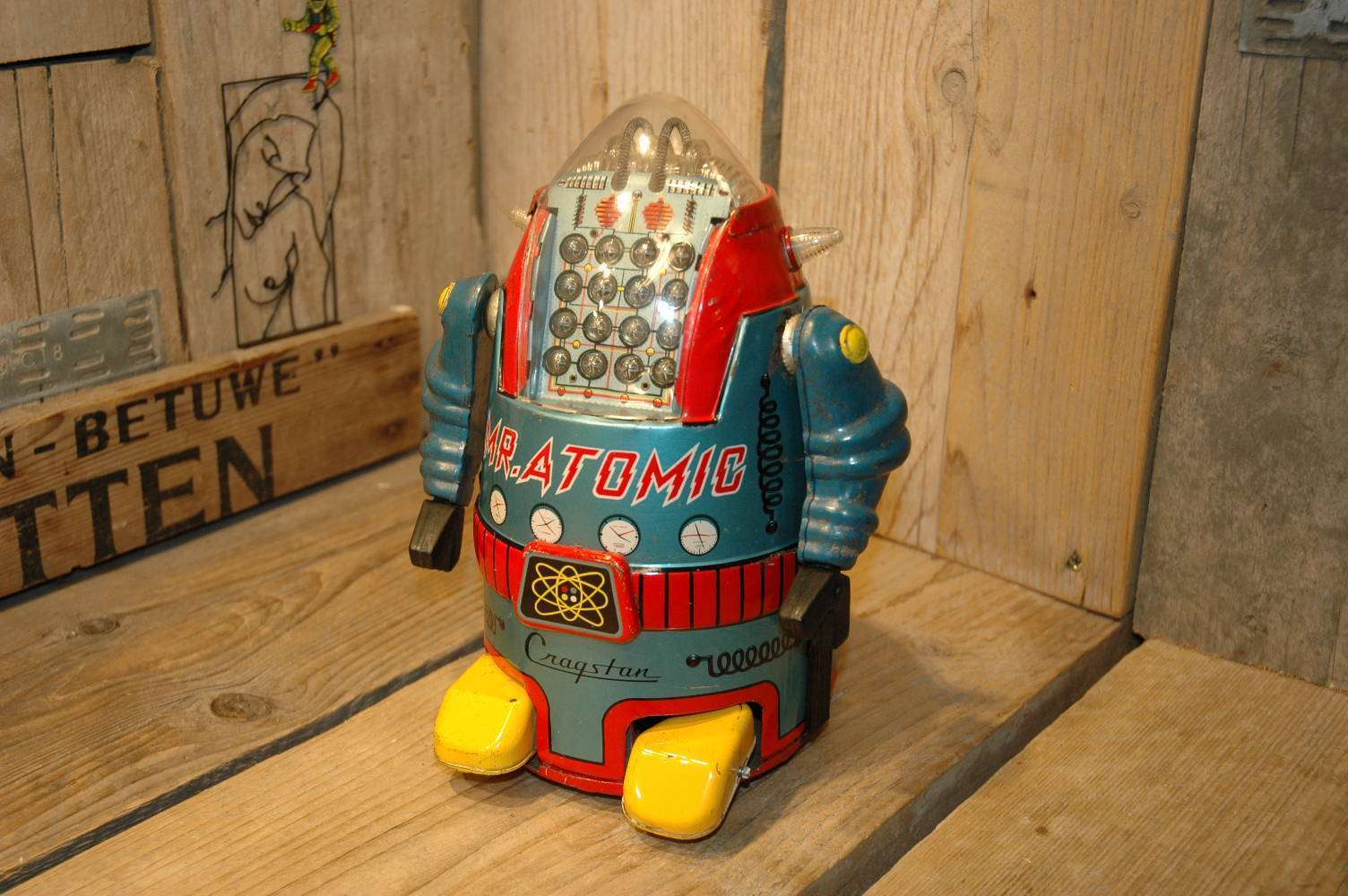 Yonezawa – Mr Atomic Blue Variation
Made in Japan in the early sixties by Yonezawa. Made in 2 color variations: Grey and Blue.  Where both robots are extremely scarce and hard to find, the blue one seldom shows up and not many are known to excist. Blue Mr Atomics belong to the top 5 hardest to find robots in the scene.
For this robot I had to put my arrows towards Japan.  I found it by accident on the internet. It was advertised with some bad pictures but from them I could determine that the robot was original AND, even more important, complete and not been messed with.
Having that said… the robot arrived quickly and was in the condition expected. Dirty and covered with dust and decorated by permanent marker over the body, bottom and dome. The good news was the robot was in all original condition and was never opened up before.
It took me more than a week of work to take the robot apart, remove all the internal dust, get the mechanism going again, repairing the beep beep unit ( the paper of that unit fell apart so I replaced the beeping unit with an original one from an other toy. ) Further I took the time to carefully remove all the permanent marker writing from the dome and the body and make sure not to damage the litho ( all worked out perfectly )
I removed about 90 % of the scattered corrosion spots all over the body with special tools and removal polish, made for this purpose.
The result is even better than I expected, the cleaning of the permanent marker writing was a 100 % succes and with that also all the dirt and dust that was gathered in the litho was removed. I would rate the overall condition of this robot from very good to excellent. with some wear and play wear. The robot has a fantastic patina and the litho is still in perfect color condition. The dome came out fantastic and only shows a small crack. The robot works like new ( bulb was replaced because it was dead ) Beeping mechanism ( For your info. original grey mr atomics make a clicking sound. the blue original ones make a beeping sound and use a total different mechanism to produce this sound ) was restored because the paper that builds the pressure was simply gone.
The robot works like new with mystery bump and go action, light and beeping sound. Absolute fantastic robot and… one of the most rare and scarce robots around…
Made by Yonezawa ( Japan ) in 1963, made out of tin and battery operated by 2 D-Cell Batteries.
The robot will be accompanied by the MTH box, not original but it comes really close 🙂 and displays awesome !! and besides that, it will keep the robot safe from any other and further corrosion attacks 🙂
Extremely rare and scarce robot to find in any condition !
CFP:  Contact me For Price      at      boogo.nl@gmail.com