Project omschrijving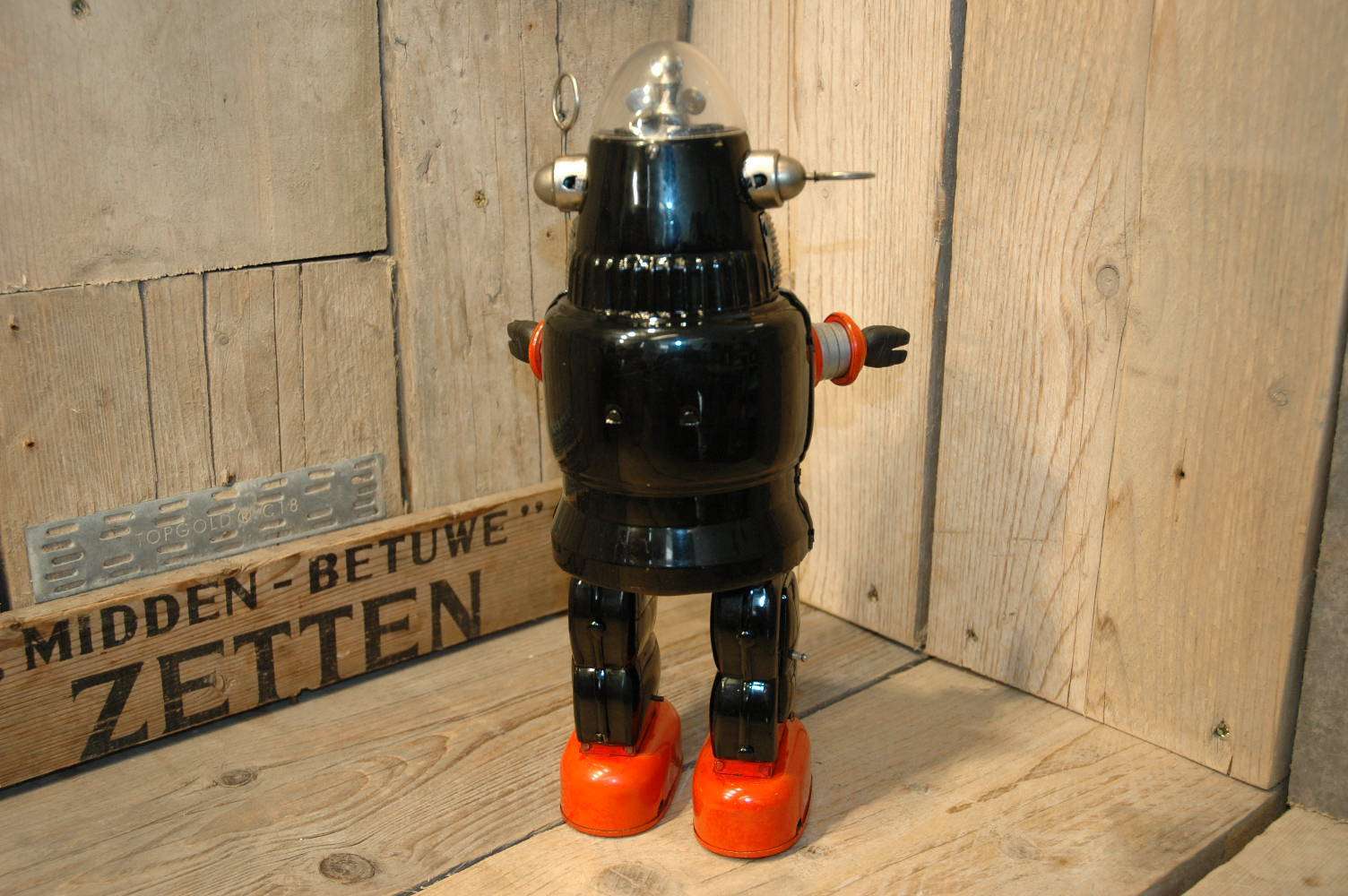 Nomura – Mechanized Robby Robot C-Cell Black
There are 4 versions known of this robot:
1. black C-Cell
2. silver C-Cell
3. black D-Cell
4  silver D-Cell
I always learned the story about silver and black had to do with the fact that the robot was made in silver and when the Japanese finally saw the move, they saw a black robot and changed the color.
but fact is that C-Cell Robbies were made in the first production runs and that it turned out that the C-Cell battery was not powerful enough to drive this relatively heavy robot. The production run for C-Cell was small ( silver and black ) and the next runs had all D-Cell Batteries. So the later robby Robots all had D-Cell and also silver D-Cells were made so this proves that the color had not much to do with movie… Its more likely the black did sell MUCH better than the Silver version.
Where the Black D-Cell Robby`s are pretty easy to find, The Silver ones are rare. More rare and scarce are the C-Cell Robby Robots. about 12 black C-Cells worldwide are known to excist and 8 silver C-Cell Robby Robots…. This one is a black C-CELL Mechanized Robby Robot and my Brussels friend Xris would call this robot " Rare like Sjiet " which means as much as: " whoaaa I MUST have it, not matter what ! 🙂 "
Build in 1957 by Nomura in Japan. This is for sure THE robot icon that everybody knows: ROBBY THE ROBOT in its purest form. Build as an exact  copy of the robot in the film Forbidden Planet. There were many variations made of this legendary robot but this is for sure the "mother" of all robbies 🙂 The actions are of course walking ( in a circle ), flashing lights, spinning ears and the famous pumping pistons in his head. His arm swing around while he walks. Not like other robots, robby carries the batteries in his legs and in this case it are 2 C-Cells 🙂 !!.
Nomura`s Mechanized Robot ( thats the official name of this toy ) is in excellent condition and is in 100 % original. Its a robot of the first production run by Nomura. There is no rust there are no dings, never messed with before, no flaws to mention. The battery compartments are clean. The robot has normal playwear and also the dome is original, no cracks. He works really fine and strong with all the actions, lights and pumping pistons.
Robby comes with his scarce ORIGINAL box. Also the original box is in excellent to near mint condition.
The combination of this robby with this box is AWESOME and you will probably never been able to upgrade this one because you will never see one again ! :).
This Mechanized C-Cell Robby Robot is one of the most rare and scarce robots on this planet !! Extremely hard to find and only a handful exist of this first production run with C-Cell battery compartments
CFP: Contact me For Price    at    boogo.nl@gmail.com