Project omschrijving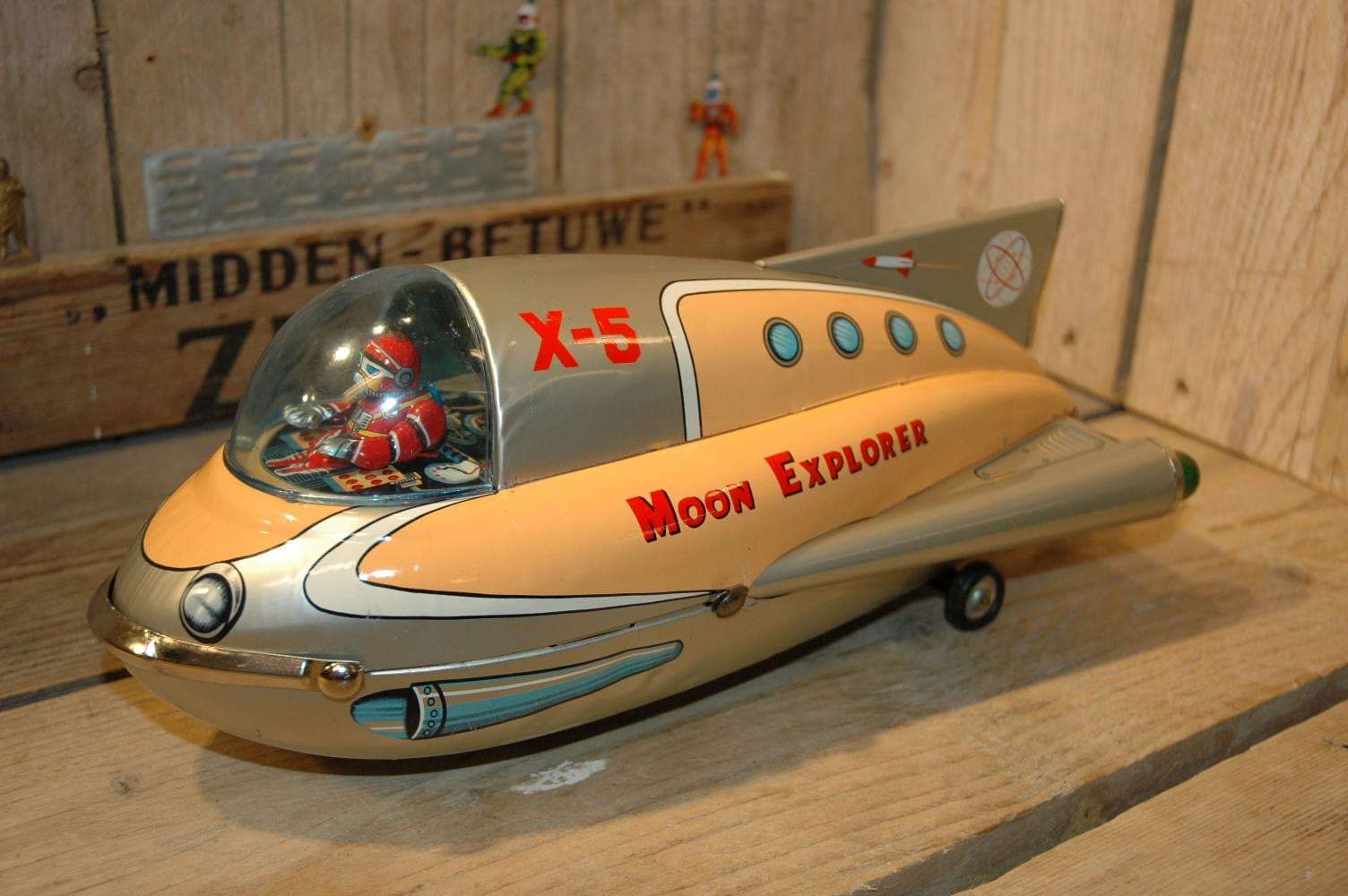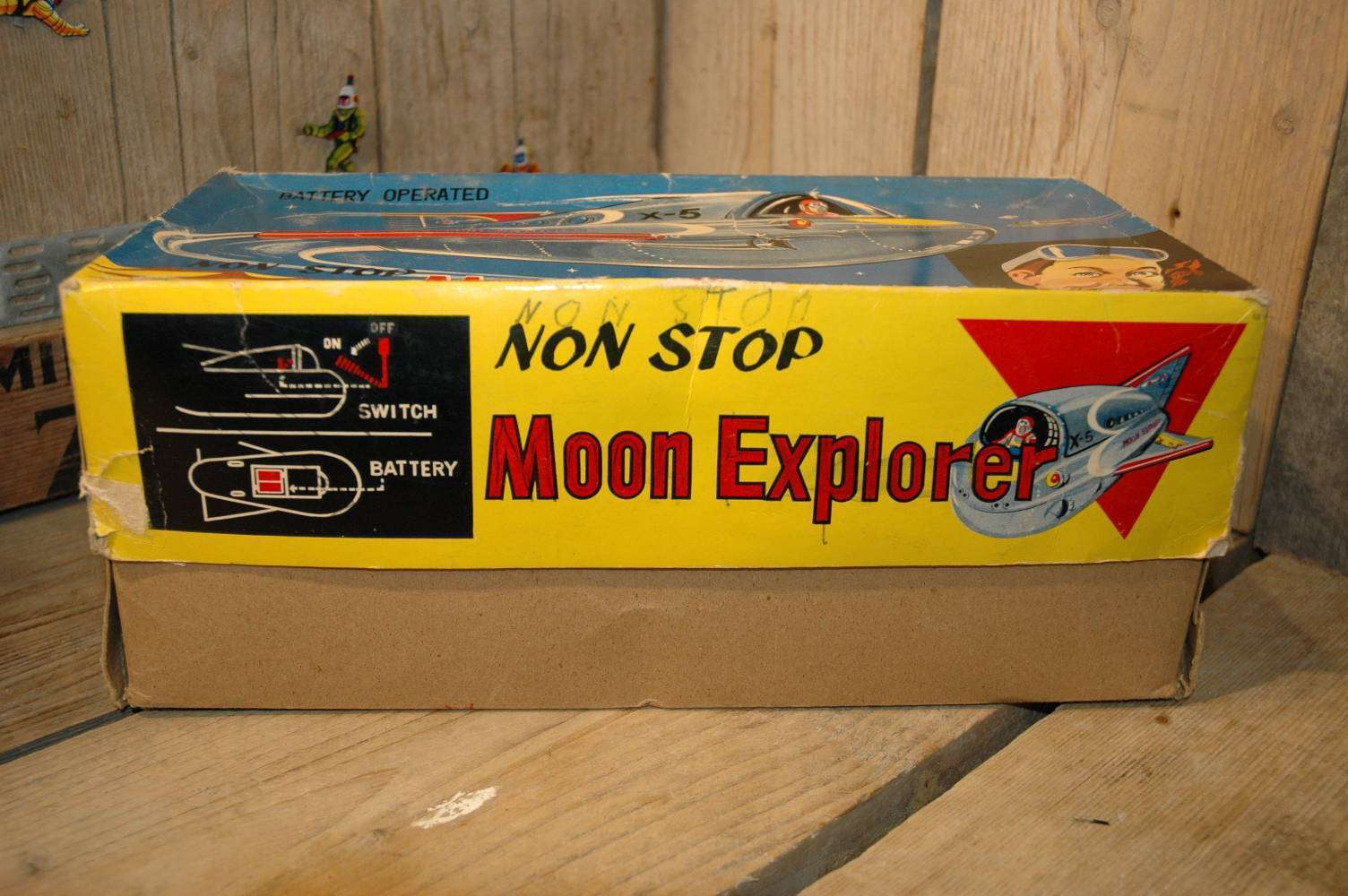 Modern Toys – Non Stop Moon Explorer X-5.
Yes… correctly.. you are NOT looking at a discolored Sonicon Rocket but you are looking at the most rare and scarce Rocket in this series that Modern Toys ever produced.
When i had a collector in my workshop some time ago, and trust me, he has seen it all, he asked me about the rocket and really thought it was a totally discolored Sonicon Rocket.
Modern Toys made several variations of these rockets, sonicon in 3 variations, and moon ships / explorer / rockets in several color variations, in green red AND… this one in Cream yellow / Silver Grey…just a stunning combination of colors !  I have to be honest.. just like the german collector I never even know about the existence of this rare variation until I found it in Zwitserland some weeks ago.
This toy was offered to me along with 2 broken Space Devision Moon Cars… but it were NOT the moon cars that took my attention, it was this rocket in excellent shiny and bright condition WITH !! tada… original box
I negotiated for some days and ended up in the end with only ONE toy but it was exactly the toy I was after… Moon Explorer X-5.
The rocket is made out of tin with a plastic dome in Japan by Modern Toys / Masudaya.  WIth mystery bump and go action and blinking lights this rocket is the rarest and most scarce rocket in this series. I dare to state it will take a LONG time before you will ever see this one again. !
I can not remember i ever saw this one in auction or in the open market so far.
The condition of this Moon Explorer X-5 is absolute excellent to near mint. Besides some minor bumps in the bottom and a few minor stresscracks in the dome, the toy is flawless. The litho is bright and shiny and shows perfectly the beauty and glory of this rare rocket.
Clean battery compartment and the toy is working like a charm. The toy was opened by the original owner many years ago and put back together with the fins outside…. i have seen this before that people take these toys apart and don't know how to rebuild it properly.
I took the toy apart again, rewired the whole mechanism, cleaned the contacts that power the lights and the driving mechanism inside, checked the lights and put it properly back together.
The rocket works really fine and strong with perfect mystery bump & go action and blinking lights at the back. Again, in perfect excellent to near mint condition. Only some minor playwear is to mention and 2 stress cracks in the dome.  clean battery compartment.
The rocket is accompanied by its original box in very good to excellent condition. There is some childs writing on the box and a tear in the toplid, hardly visible in the pictures. Some wear around the corners and some residue from a small piece of old tape.
Overall a fantastic box… RARE and SCARCE written in capitals !
I never saw this toy in auction or in the open market… "Rare Sjiet" my friend Xris would call this one 🙂
FInal note:  this could be the ONLY box known to exist at this very moment… !!
CFP:  Contact me For Price      at     boogo.nl@gmail.com