Project omschrijving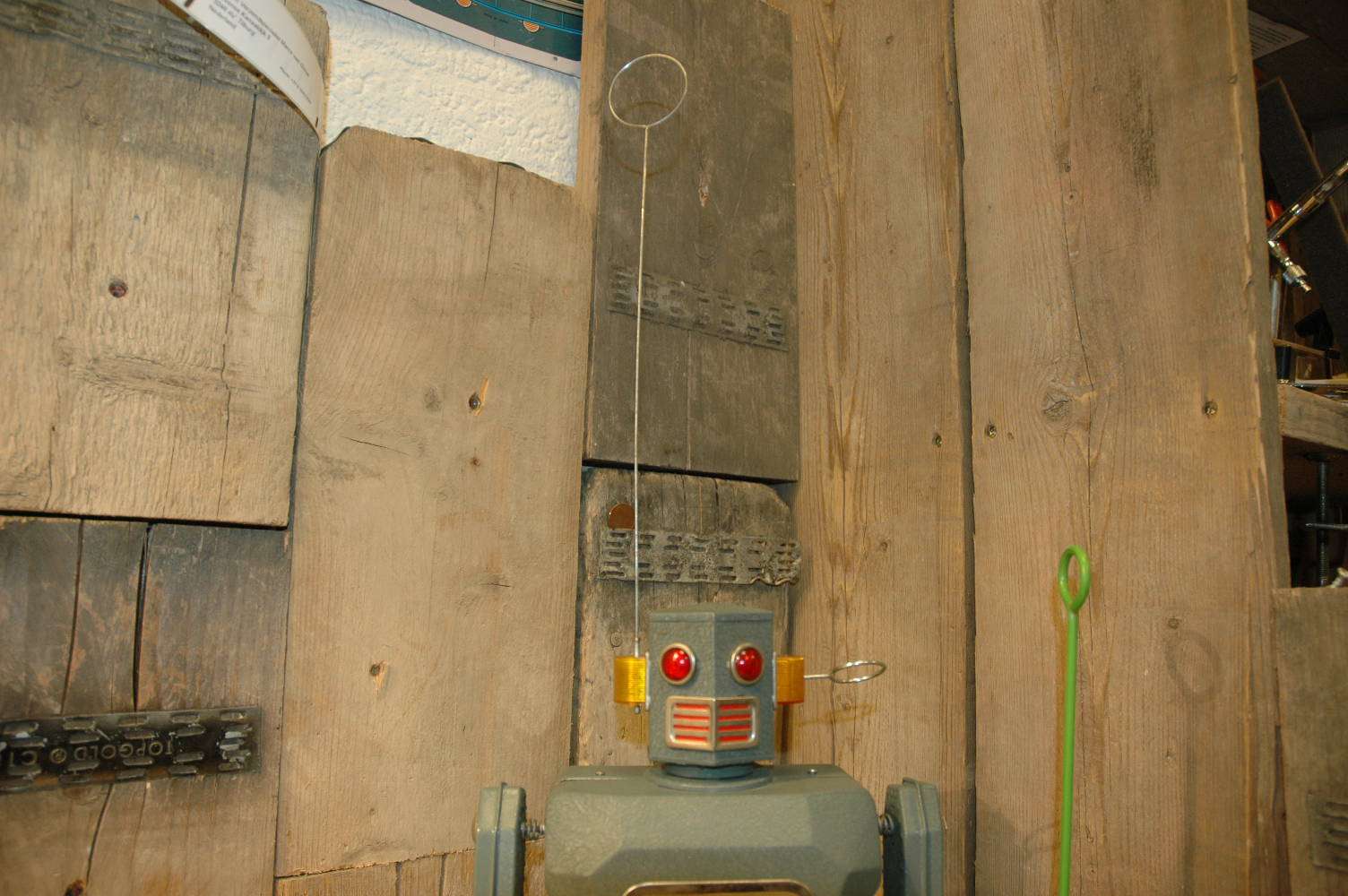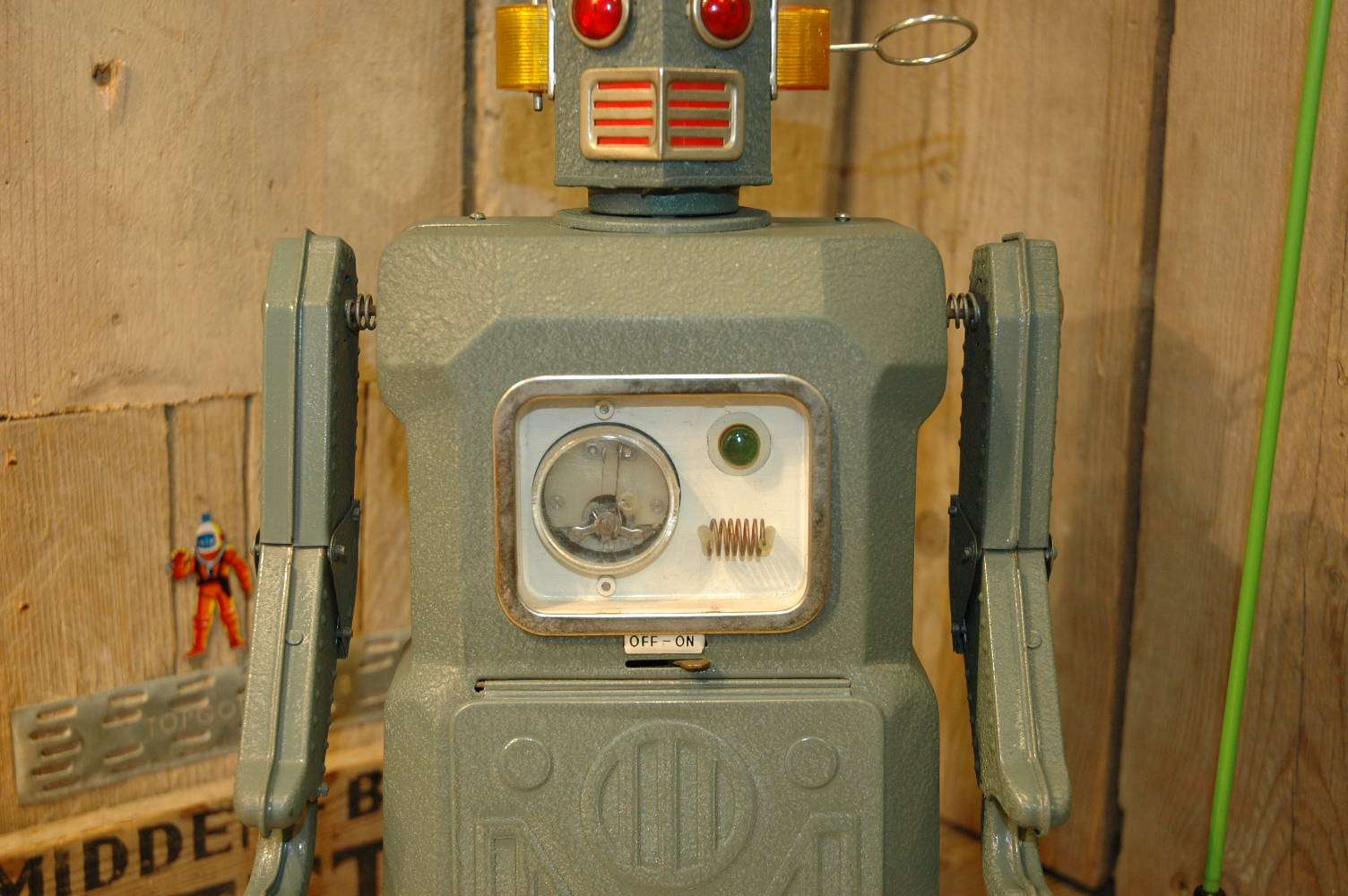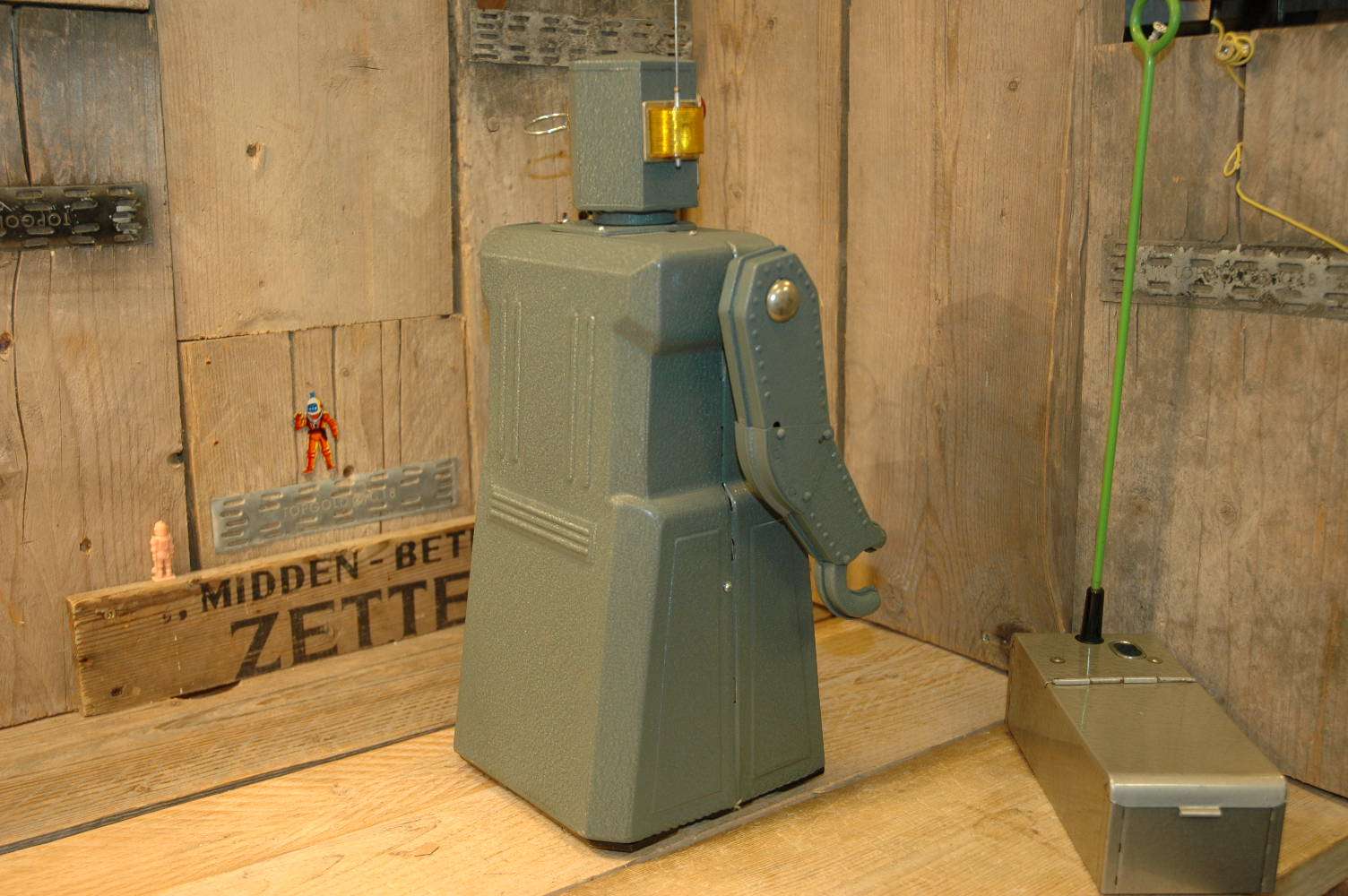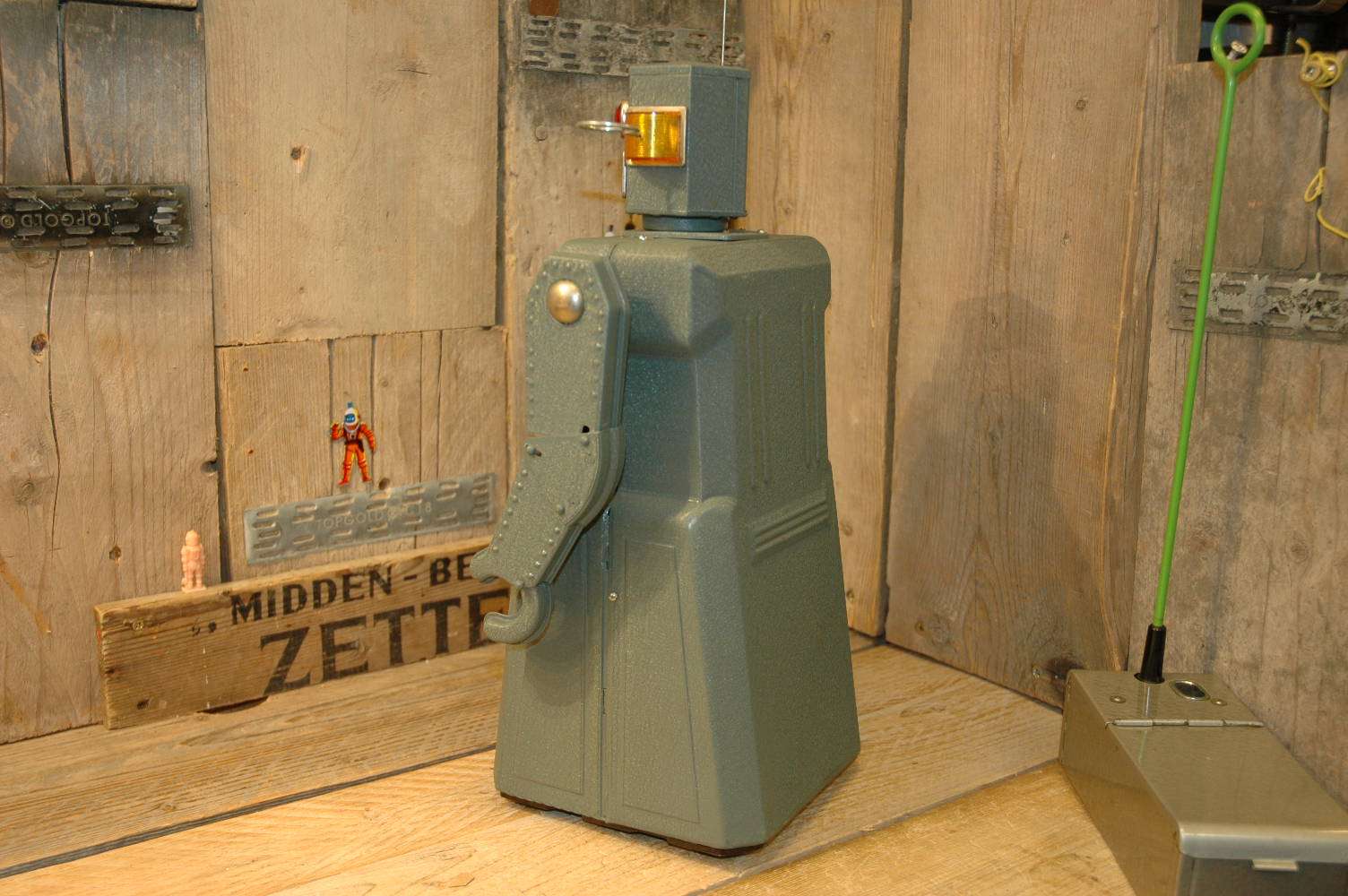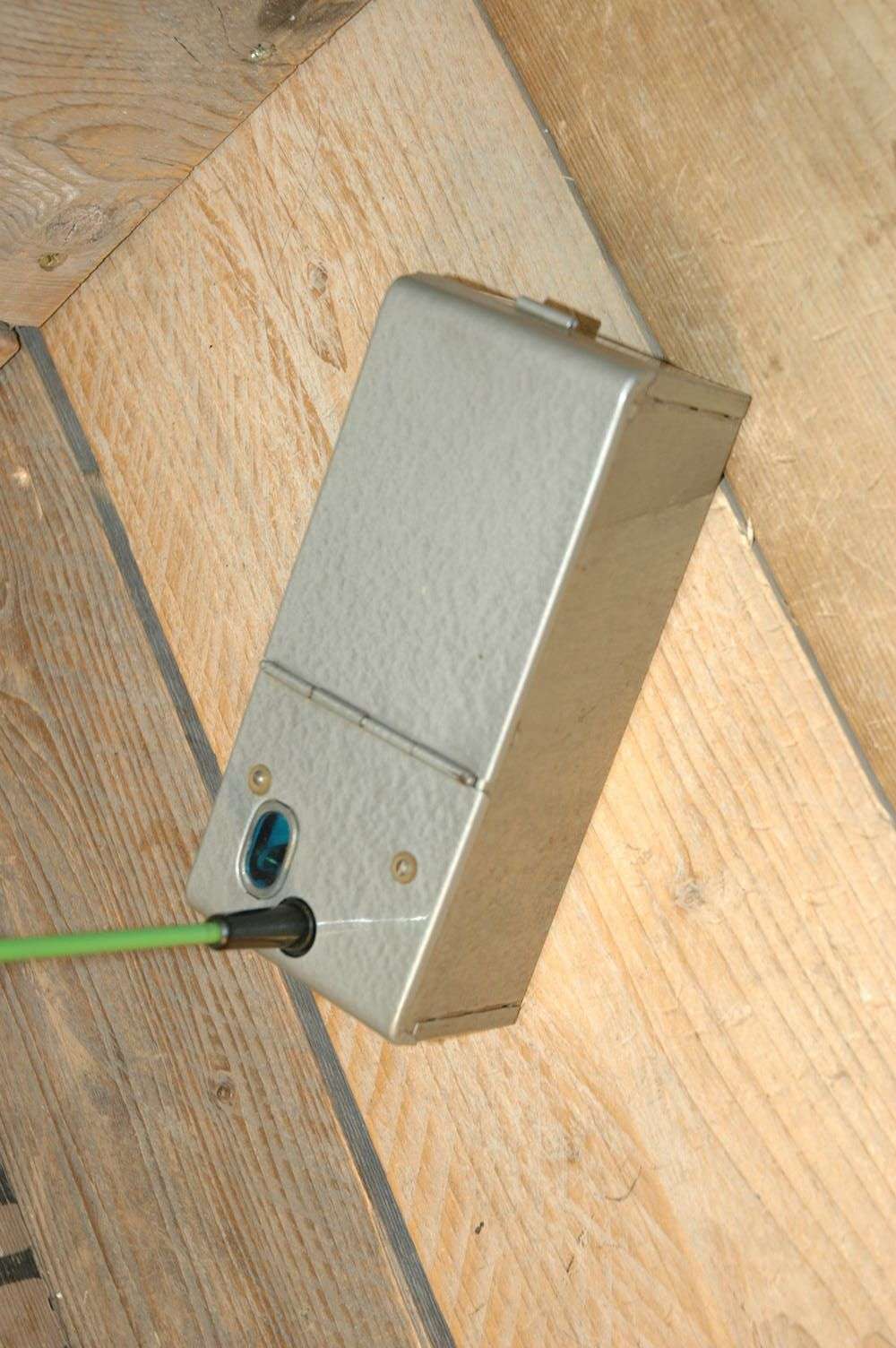 Modern Toys – Radicon Robot
The legend…. Radicon Robot build by Masudaya ( Modern-Toys) in Japan in 1957 as the second know radio controlled toy and the first known robot that was ever build with remote control. Radicon Robot was technically difficult to make because of the complex mechanism and the thicker tinplate that was used to stamp the parts for this robot. Radicon is also the FIRST robot of the famous Gang of Five.
This impressive robot is great to look at and I always keep wondering how these fantastic toys survived more than 50 years of playing, storing, displaying etc etc…. Masudaya did their job really well and build a perfectly STRONG robot with awesome actions that was able to survive so many years in different conditions.
This in 1957 build robot is controlled by a remote that takes 3 big batteries. the robot itself takes also 3 so you have to invest another bunch of dollars to get this big robot going. The robot can be started with a single push on the red button of the remote and it makes the robot go in several sequenses: forward, left, right, stop with swinging arms, "clicking" contact in the chestplate, light and of course his ear spins.
On the left of his "ear" goes a big antenna to receive the commands given by the remote. The remote itself has also a pretty big antenna to sent out the commands.
The technique used in this robot for remote control is very old and therefore complicated and is based on the basics of sending and receiving.  And yes, again I found this robot in Italy ( Milano ) I think I have to move to Italy just to be closer to the robots 🙂 The seller showed and sold me some more pics which… i will list later… all incredible toys.
The condition of this Radicon Robot is near mint and its absolute one of the best examples i have seen in many many years. The robot is complete and all original and in full working condition. The original remote is excellent to near mint as well.  both antennas are present… this robot is impossible to ever upgrade ! I have "played" several times with this great gang member and he really functions perfectly.
There are NO dings, rust or broken / cracked parts. The grey surface of this robot has a special kind of paint that was put electrically on the tinplate surface.  Its AWESOME to see this paint in real. You will never see this again on any other robot and you have to see this once in your life on a real Radicon Robot, artwork on its own !!!. The chrome parts are bright and shiny… Impossible to upgrade this robot and you will be surprised as much as I was when I unpacked this robot. WOW !!! is all I could say…
CFP:  Contact me for  price: boogo.nl@gmail.com