Project omschrijving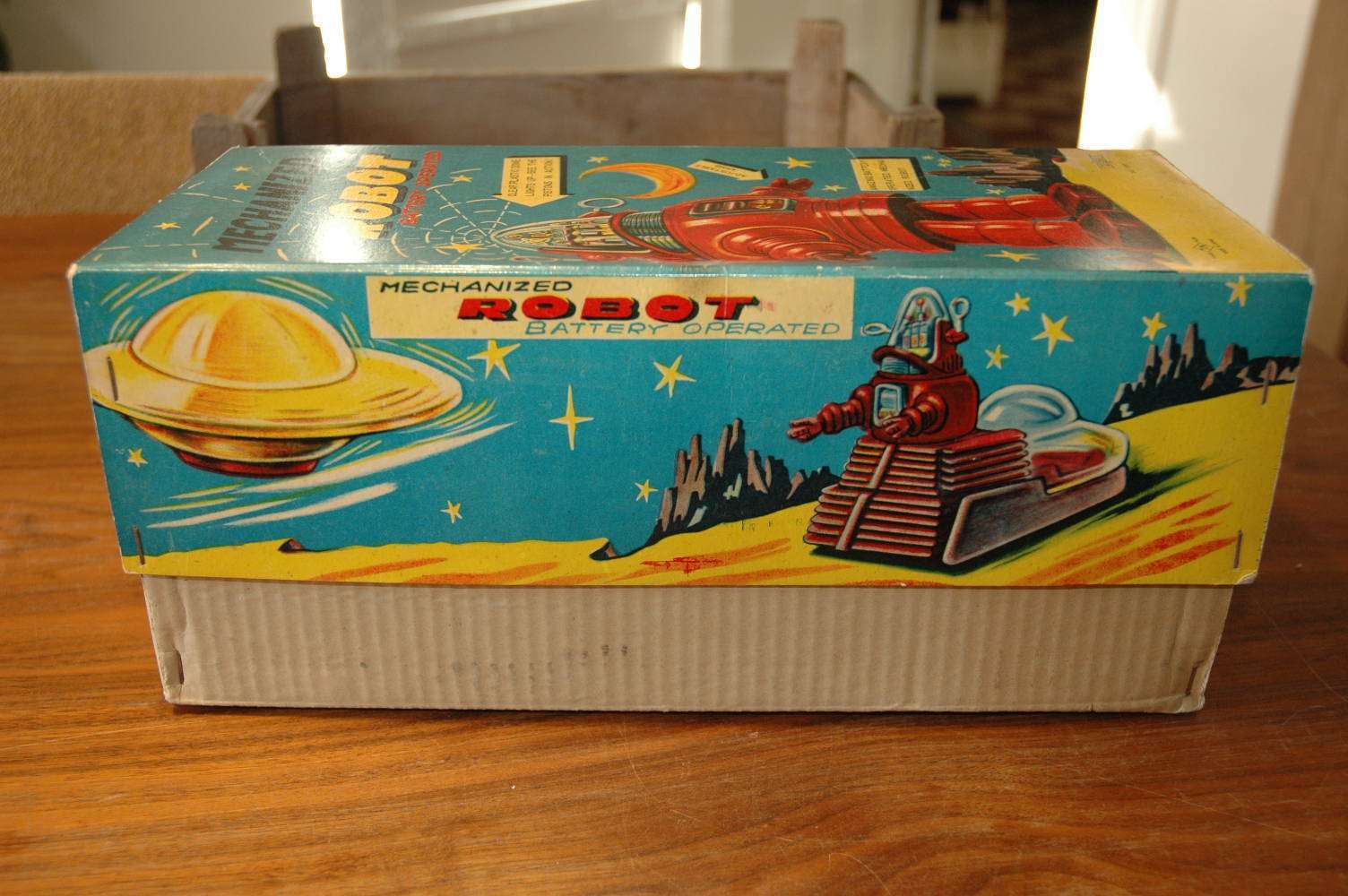 Nomura – Mechanized Robby Robot Grey Variation
This is a robot with a great story… Take a seat, here we go:….In a galaxy far  far way :)… well in 1956 ( see the trailer here above ) the film the Forbidden Planet made Robby the Robot famous. also in 1956 the Japanese craftsman of the Nomura Company were looking at posters and flyers of this movie. The saw Robby and decided to create this robot as a childs toy. The first information the Nomura Craftsman got ( there was no internet those days, remember 🙂 !! and it was also visible on the movie posters is that robby the robot was silver / grey  !!!
So to follow up on this, Nomura made a wonderful robot in the color silver / grey UNTIL they saw the movie and found out Robby was not a Silver robot but a BLACK Robot !. The silver robot was taken out of production and the black one was introduced !. et voila…. a rare and scarce robby was born. Its estimated that only a few dozen of these grey robbies were ever produced.
Built in 1956 by Nomura in Japan. This is for sure THE robot icon that everybody knows: ROBBY THE ROBOT in its purest form. Build as an exact  copy of the robot in the film Forbidden Planet. There were many variations made of this legendary robot but this is for sure the "mother" of all robbies 🙂 The actions are of course walking ( this robot walks in an " eight " , flashing lights, spinning ears and the famous pumping pistons in his head. His arm swing around while he walks. Not like other robots, robby carries the 2 D-cells in his legs.
Nomura`s Mechanized Robot ( thats the official name of this toy ) is in near mint to mint condition and is 100 % original. Its the very first version build by Nomura ( look at the Knobs of the battery compartments, where the black versions have a handle, these battery doors click into place ) There is no rust there are no dings, never messed with before, no flaws to mention. The battery compartments are clean. The robot has hardly to find playwear and also the dome is original, no cracks. He works really fine and strong with all the actions, lights and pumping pistons.
Robby comes with his scarce ORIGINAL box. Also the original box is in near mint condition. The combination of this robby with this box is AWESOME and I promise you… it can NOT be upgraded EVER ! 🙂
One of the most rare and scarce robots on this planet Silver / Grey Mechanized Robot by Nomura, made in 1956 in unplayed with condition… near mint to mint in ditto box…. live IS great, even when it came from the Forbidden Planet !
Enjoy the pictures..
CFP:  Contact me For Price    at    boogo.nl@gmail.com