Project omschrijving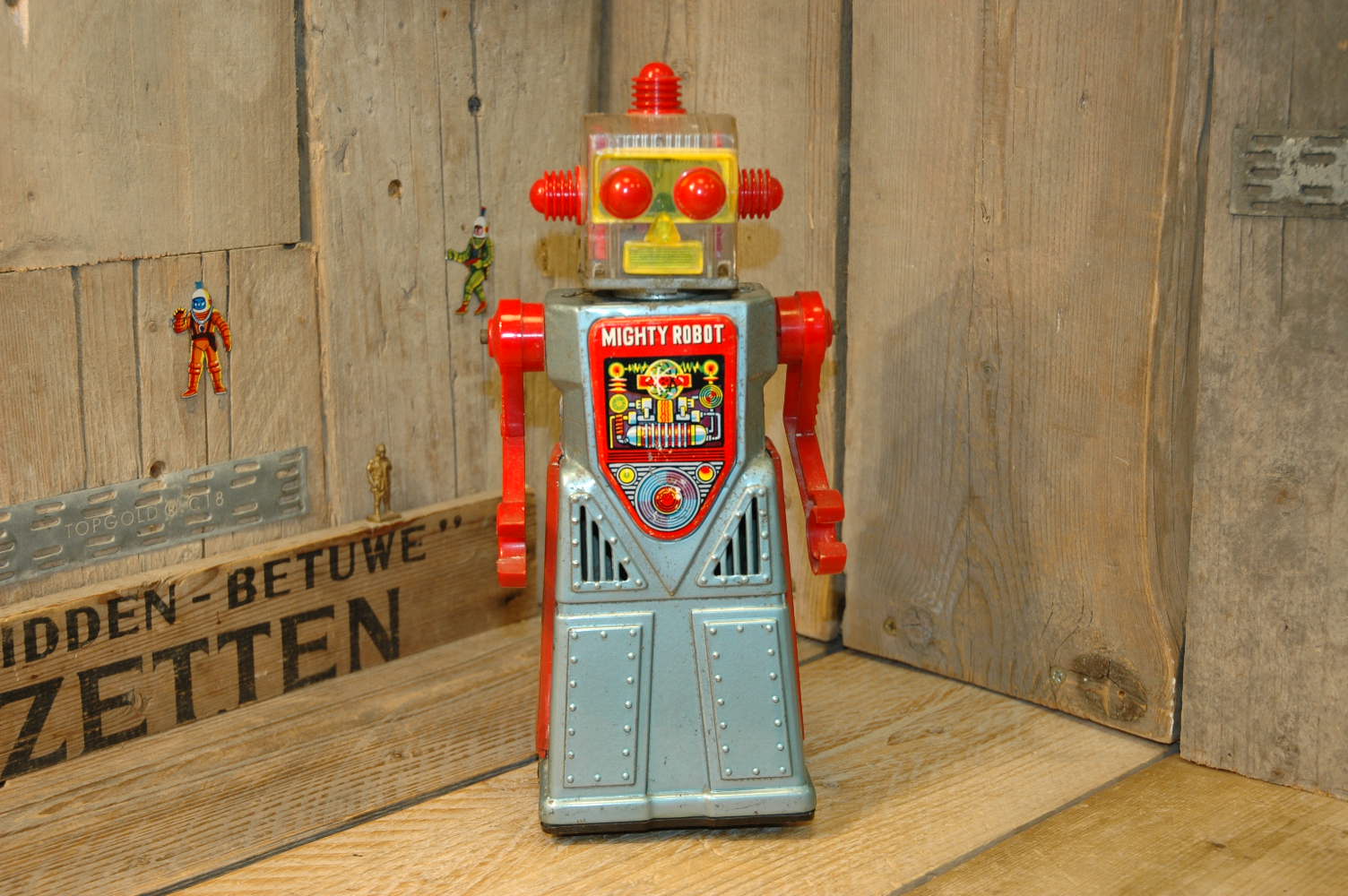 Yoshiya – Mighty Robot
Mighty Robot was made in Japan by KO ( Yoshiya ) in the Mid Sixties ( probably 1965 ). This skirted robot was the last one in this series and its very clear that plastic had more and more influence in tin making robots. The head and arms are now made out of plastic while his older brothers were all made out of tin. ( Chief Robotman, Mystery Moon Man, Mr Chief etc ) These robots all share the same skirted body.  With the plastic head, the techniques and complexity of the mechanism became more and more complex. The head has 2 colorful lights inside but more interesting are the colorful spinning gears, Impressive !
Mighty Robot is also the most fragile Robot in this series.. the plastic head was of course a weak point in the hands of kids. Therefore not much of these robots survived time resulting in one of the hardest to find robots these days.. That some of these COULD survive is a miracle and this robot is a perfect example of that… In played with condition but still original, perfectly working and no damage to the plastic parts.. The tin body however suffered from humidity resulting in spidering throughout the body of the robot, mostly on the front. The battery compartment is clean and never housed a leaking battery. The spidering is for sure cause because the robot was kept in an area with to high humidity.
The condition is described as above.. in very good to excellent condition. all complete, original and perfectly working. No cracks or breaks to the plastic head or arms.. they are perfect but in played with condition. Clean battery compartment. Spidering throughout the body as shown in the pictures.
Still a very nice example of this hard to find robot. Mighty Robot, made by KO Yoshiya in Japan… a must have in any robot collection !
CFP:   Contact me For Price    at     boogo.nl@gmail.com