Project omschrijving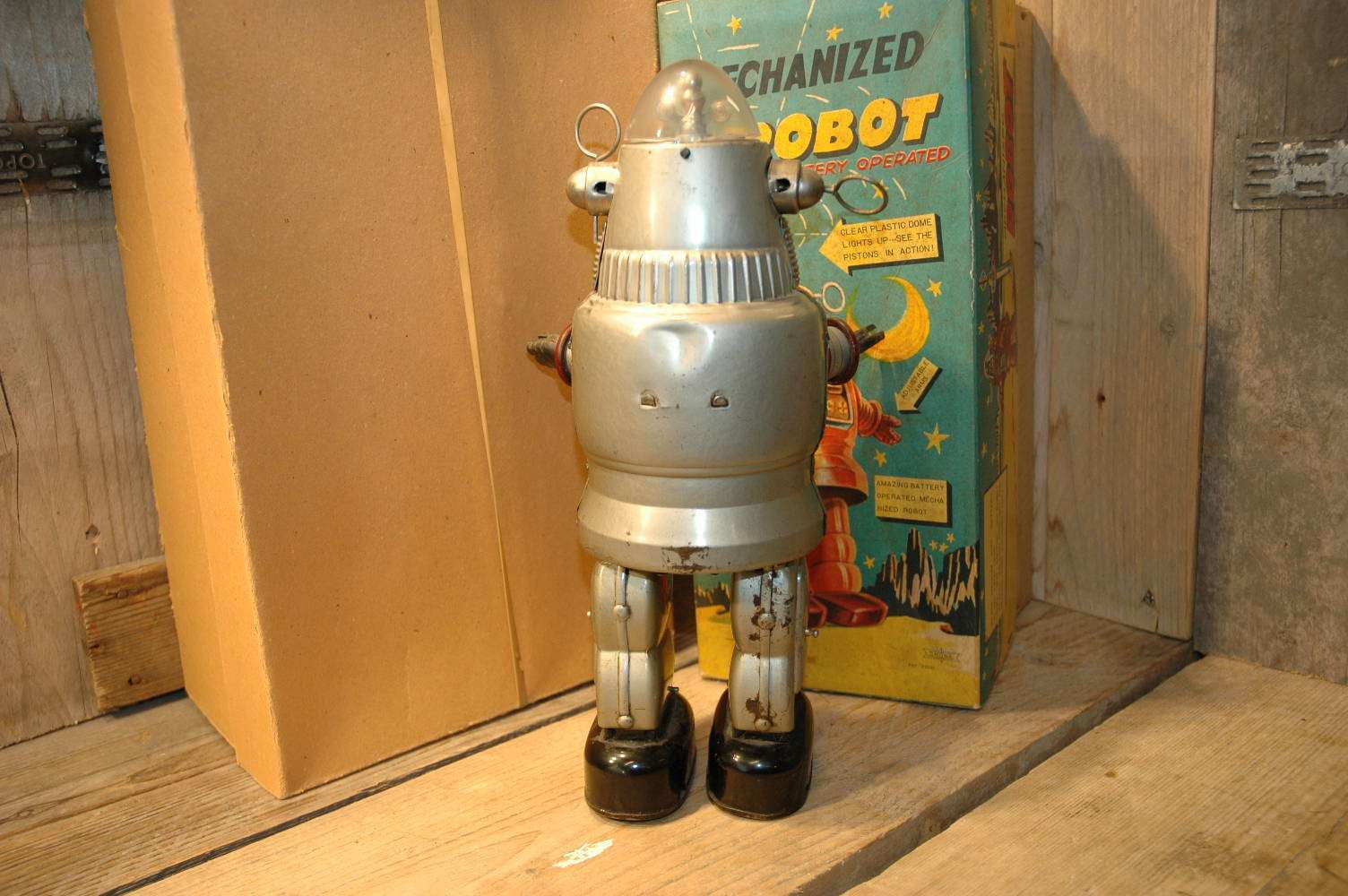 Nomura – Mechanized Robby Robot C-Cell Grey.

My latest trip brought me back to Rome this time. To visit Rome in wintertime is not to advice by the way because i had 3 days of full rain there.
This time it was again a rare and scarce robot that made me travel to Italy again. After I picked up the robot and had a good glass of wine with the seller, it was time to visit Rome. Coloseum, Vatican and a lot of nice restaurants crossed my path in a 3 day trip through the city.
I visited some old toyshops also there and found also a ribbonhead, a nomura astronaut and some other robots but this Grey Robby Robot was THE reason for my trip to Rome.
A lot is to tell and has been told about this mysterious C-Cell Robby Robots. I had one in black a couple of years ago and I have seen some more black C-Cells over the years, not much but a few crossed my path but NEVER…. NEVER a GREY C-Cell Robby.
Somewhere on my website ( look for mechanized robby ) you can read the full story about this robot but when i had the robot and the outer box that come with it in hand, I remembered another story i once read. These C-Cells could also have been Salesman Sample robots…. who knows, who will tell…. We will probably NEVER know..
What i DO know is that this example is a vintage robot in optima forma… I did not even clean him and I think it must stay like this.
The robots condition is very good with some wear throughout, a ding at the back and some rust in the battery compartments. Nothing shocking and the robot will survive the next 100 years easily this way. The wheels are flat from being in display for many many years and he is not working… that has to be said: i did not even try the robot.. maybe he works… it will remain a mystery ! 🙂 The robot comes with an outer box that belongs to this robot and an original box as well in excellent condition.
One of the most rare and scarce robots on this planet, you will probably not see an other example again in your life…. The holy Robby Grail arrived here ….. WOW !
CFP:  Contact me For Price      at      boogo.nl@gmail.com