Project omschrijving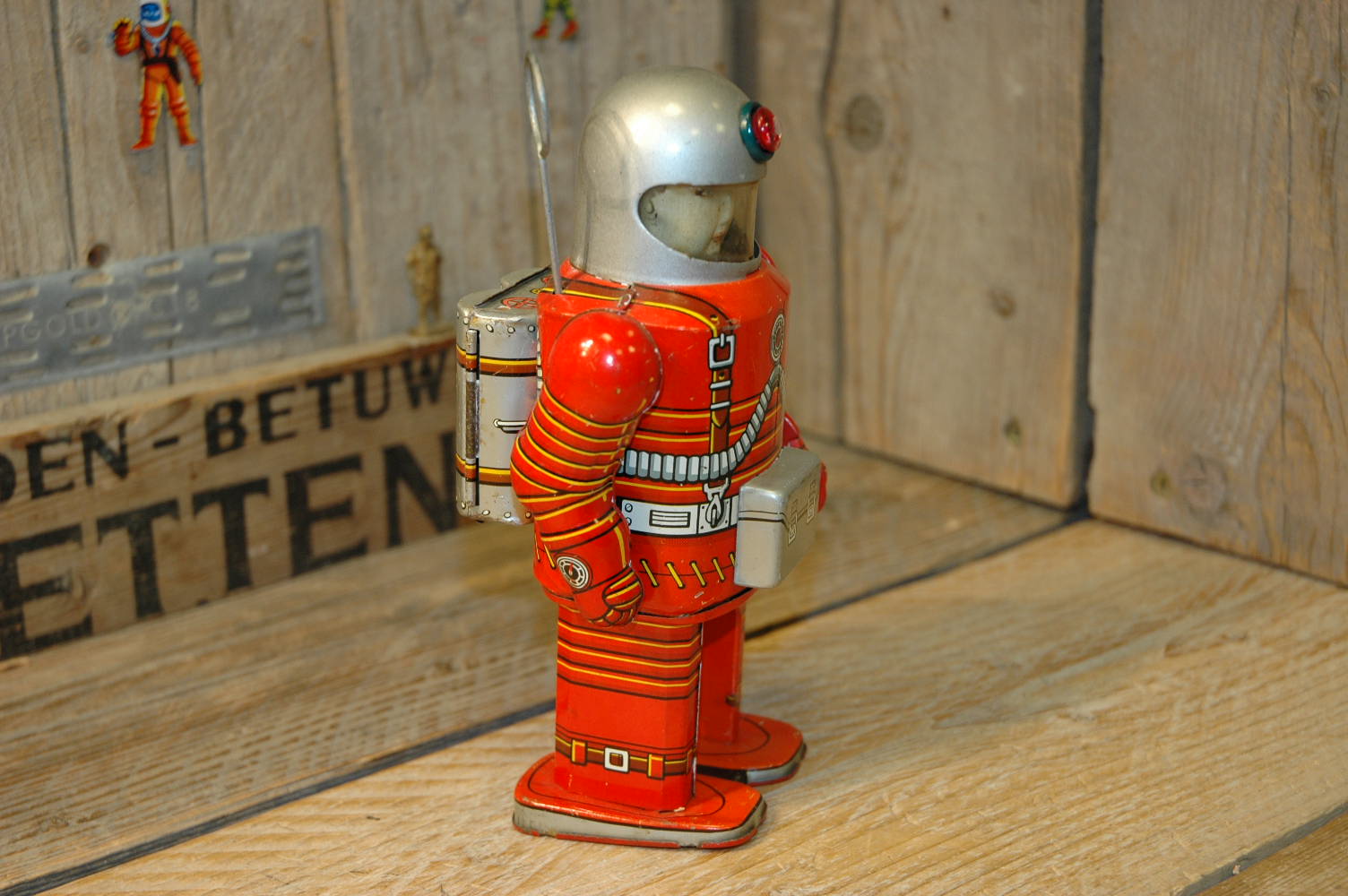 Modern Toys – Spaceman
This heavy little red dude was found in Italy ( where else…Italy is becoming my favorite Robot Country 🙂 Doomed to be in display for many many years in an awesome collection. This robot is mostly.. excuse me… ALWAYS found in green or slightly different green / blue variation but NEVER in RED !!
Besides the fact that this robot is heavy and with that I really mean heavy. The first thing when you lift up this robot is the feeling: "wow, you really have something in hand 🙂 "
Modern Toys / Masudaya did not produce many robots but the ones they DID make are mostly rare and scarce today and that is not different with this robot.
Space man was made in 1960 in Japan, totally build out of lithographed tin and he carries the batteries on his back and not like all the green ones who have their batteries in a remote control unit.
In action this robot walks with pinwalking action, moving arms and a blinking toplight, build in his helmet. the antenna is the ON / OFF switch by the way.
The condition is excellent, the robot shows normal playwear as you can expect from an old vintage robot. No dings or rust and all the parts, and even the antenna is original. The robot has never been messed with before. This is one of the most rare and scarce astronauts / spaceman that you can find these days. Only a handful are known to have survived time. You just never will see this robot in the open market and as far as I can remember I only saw it once in auction but missing in most collections. I can not remember i ever saw the box for this robot so if you ever did and have a picture, plz let me know.
Modern Toys Spaceman in Red is an extremely rare and scarce robot. You will not have many changes of buying this one in your collectors life… Extremely hard to find.
CFP:  Contact me For Price       at       boogo.nl@gmail.com