Project omschrijving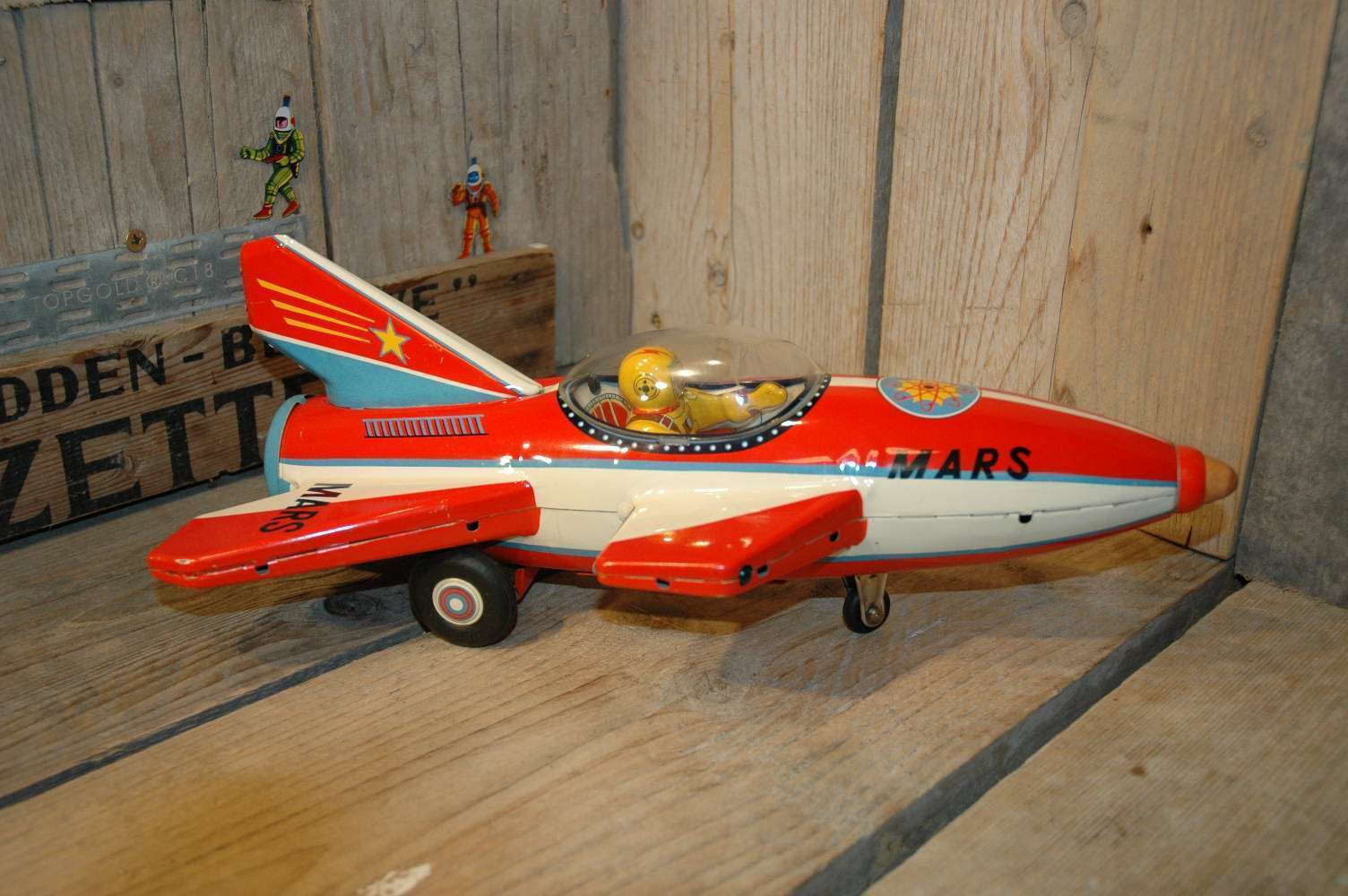 Modern Toys – Mars Rocket.
In november 2015 the search for robots and space toys brought me to Italy again, Milano toy show this time in Novegro just located outside Milano.
I met some of my contacts there of course there were robots and spacetoys and among those toys there was this treasure: Mars Rocket WITH original box.
Now is the rocket itself very difficult to find and if you see it, its always missing the original box… well… NOT this example…
An absolute near mint to mint rocket, never been played with before and with ORIGINAL box ! 🙂  WOW…
Mars Rocket was made in the late fifties in Japan by Modern Toys.. The design, color scheme and actions are different and can not really be compared to other rockets from this timeframe..
The tin made rocket comes in fantastic orange and white litho with stop and go action, an astronaut in control that moves his arm up and down while he is in control, flashing lights under the clear dome and flashing lights in the wings.. all with real rocket sound of course ! 🙂
The rocket takes 2 D-Cell batteries and the direction of the rocket can be changed by manually change the front wheel to make the rocket go around in a small or wider circle..
I can be short about the condition of the rocket.. near mint to mint and the toy is absolute in pristine condition.. NO upgrade ever needed on this one.
Even better is the fact that the rocket comes with its original box which is seldom seen in the market.. Fantastic artwork on the box. The condition of the box is excellent. There are some tears that are protected by some inside clear tape to prevent the tears from tearing further..The box is a very good candidate for restoration, would not be a big job.
Ow… forgot to mention that the rocket works like NEW ! fantastic working condition 🙂
A very rare and scarce combination, the rocket in prestine condition with original box.
CFP: Contact me For Price       at       boogo.nl@gmail.com