Project omschrijving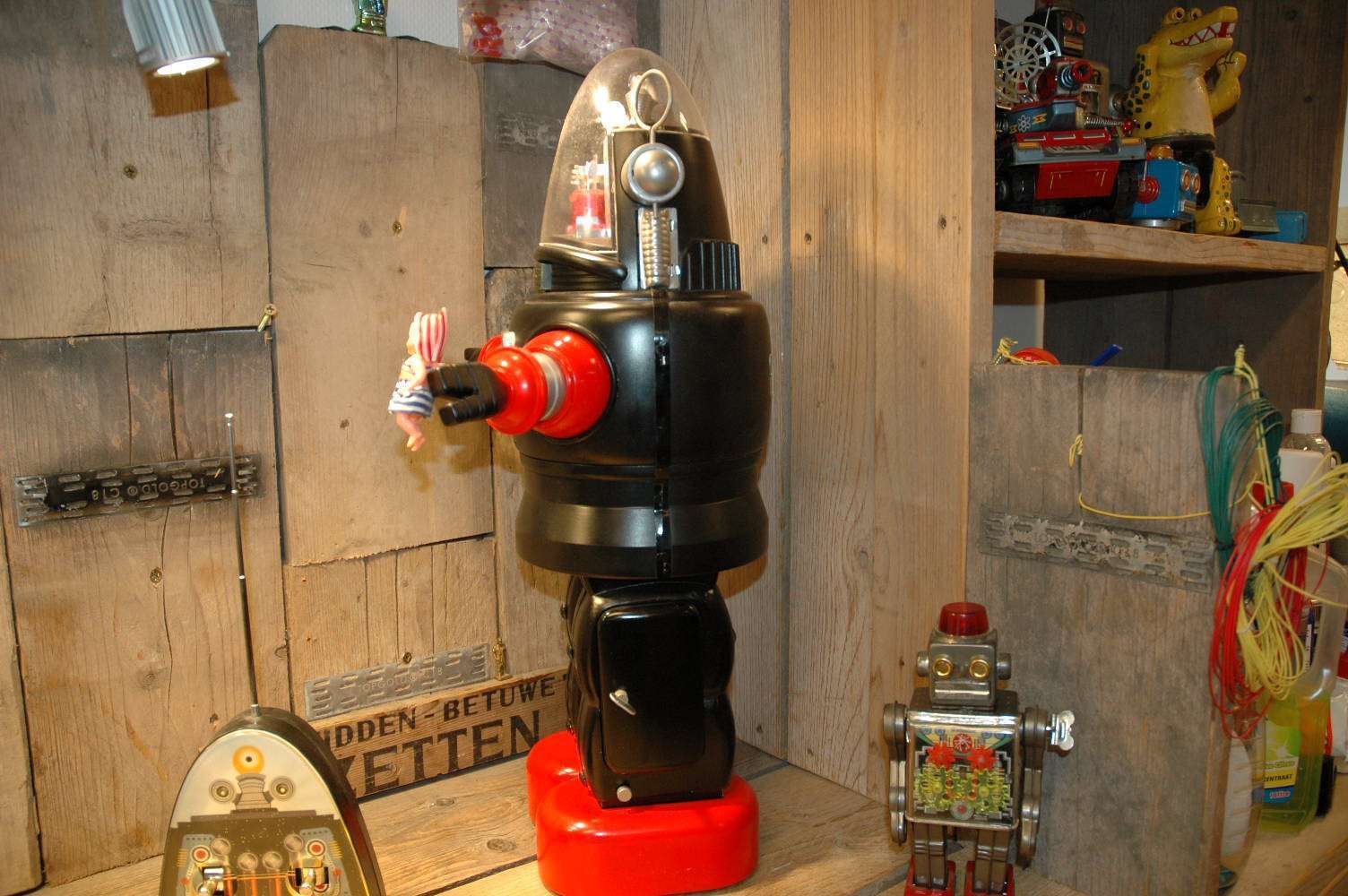 Metal House – Mechanized Robby Robot Prototype Number 000 of 200.
I always called this robot the "BABYSNATCHER" because the box it came in had a little child / baby toy doll that I placed in the robots hands and it never left there since ! 🙂  Ok, here we go with Robby…( the horikawa robot is only there to show the size of this impressive creature by the way 🙂
This robot came in a box, a big box from Japan. I found it in the workshop of Mr Shinji Miyazawa who passed away a couple of years ago.  He was responsible for these insane big, heavy and expensive Robby.  This prototype ( yes its number 000 !!! ) is the first and probably one of the few he ever made back in 2007.  The robot came here in parts and was partly built and finished. I put it back together and made it work again. all the parts were there but it looks like Mr Miyazawa was still working on this project.  I have NO idea how many actually of these were build up but my best guess is… not much ! I don`t think he actually made some of these because I have never seen them around. Maybe there will be a few made but it will not be more than 5 pieces.
I can also imagine why.. this robot costed 2500 usd + those days and ALL is made by hand..its in fact a piece of art… shows again the skills of Japanese toymaking… amazing piece of work !
The robot is BIG, HEAVY and impressive… all made by hand, remote controlled (Robot only works as stand alone, does not respond to the remote ) with walking action, sound and lighted piston action. Its a prototype, the first one he build up and made. kept it for himself in his workshop all those years.
Mr Miyazawa made also a Smoking Robot in this size…I have seen a few of them in auction over the years. I also got a part of an Attacking Martian, not complete but the same size… Never seen them also in the market so I think that the smoking were made some, he completed robby but never went into production and worked on an attacking Martian but never completed it…. Correct me here if i am wrong ! 🙂
This example is unique. its labelled and numbered 000 / 200 at the back with an original plate.  Absolute stunning and impressive Robot … Robby Rules !!!
CFP:  Contact me For Price      at       boogo.nl@gmail.com