Project omschrijving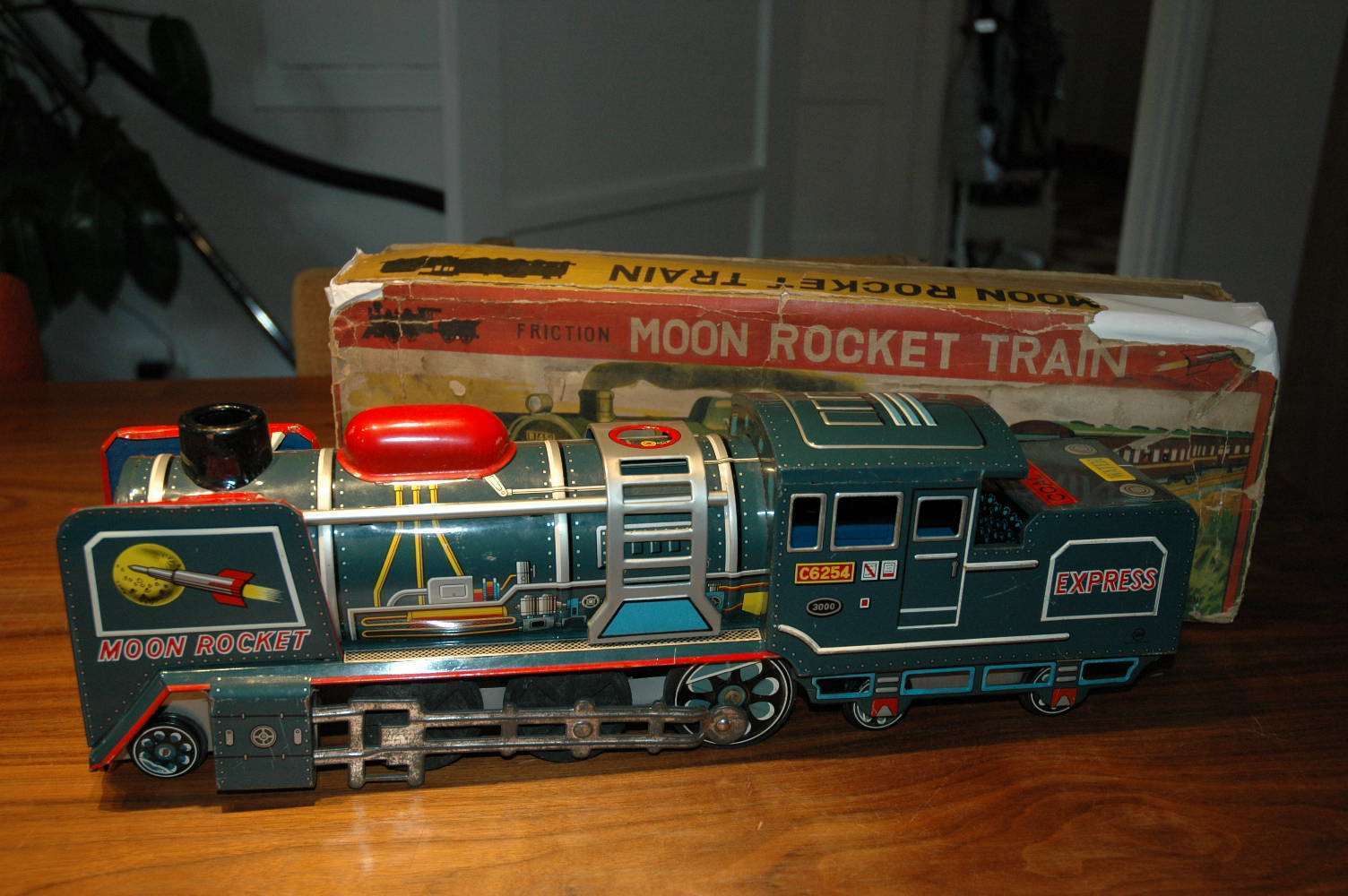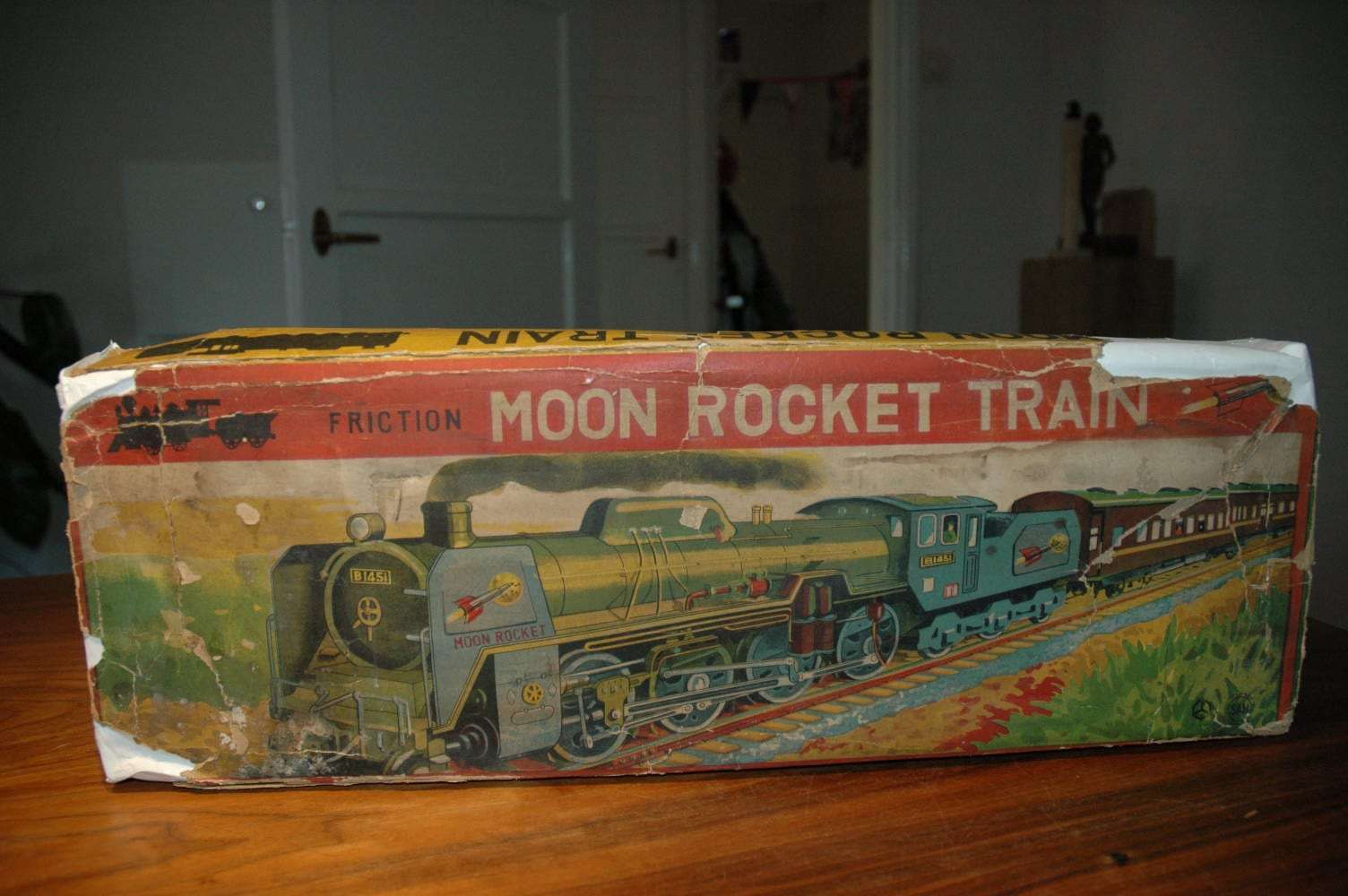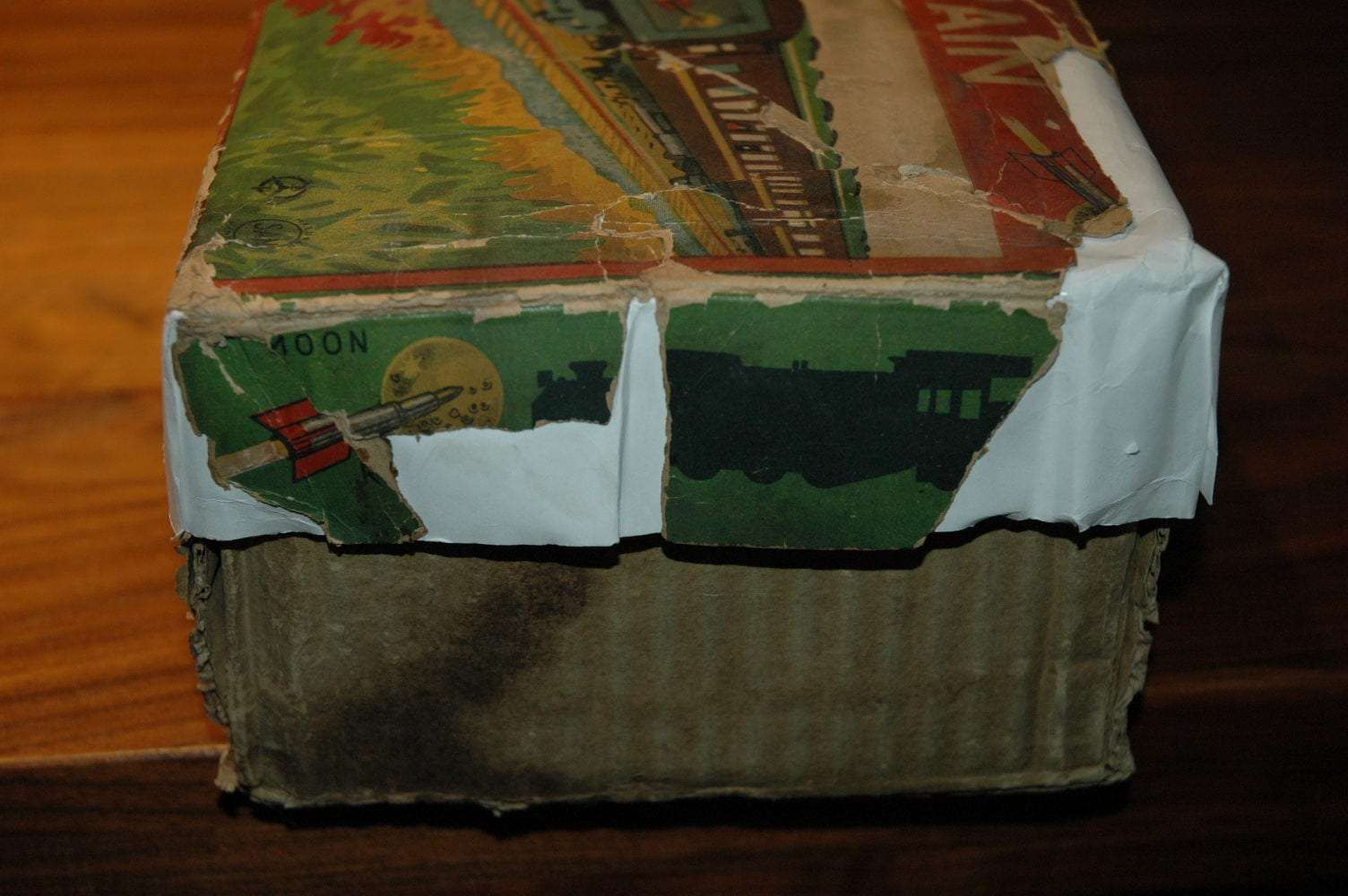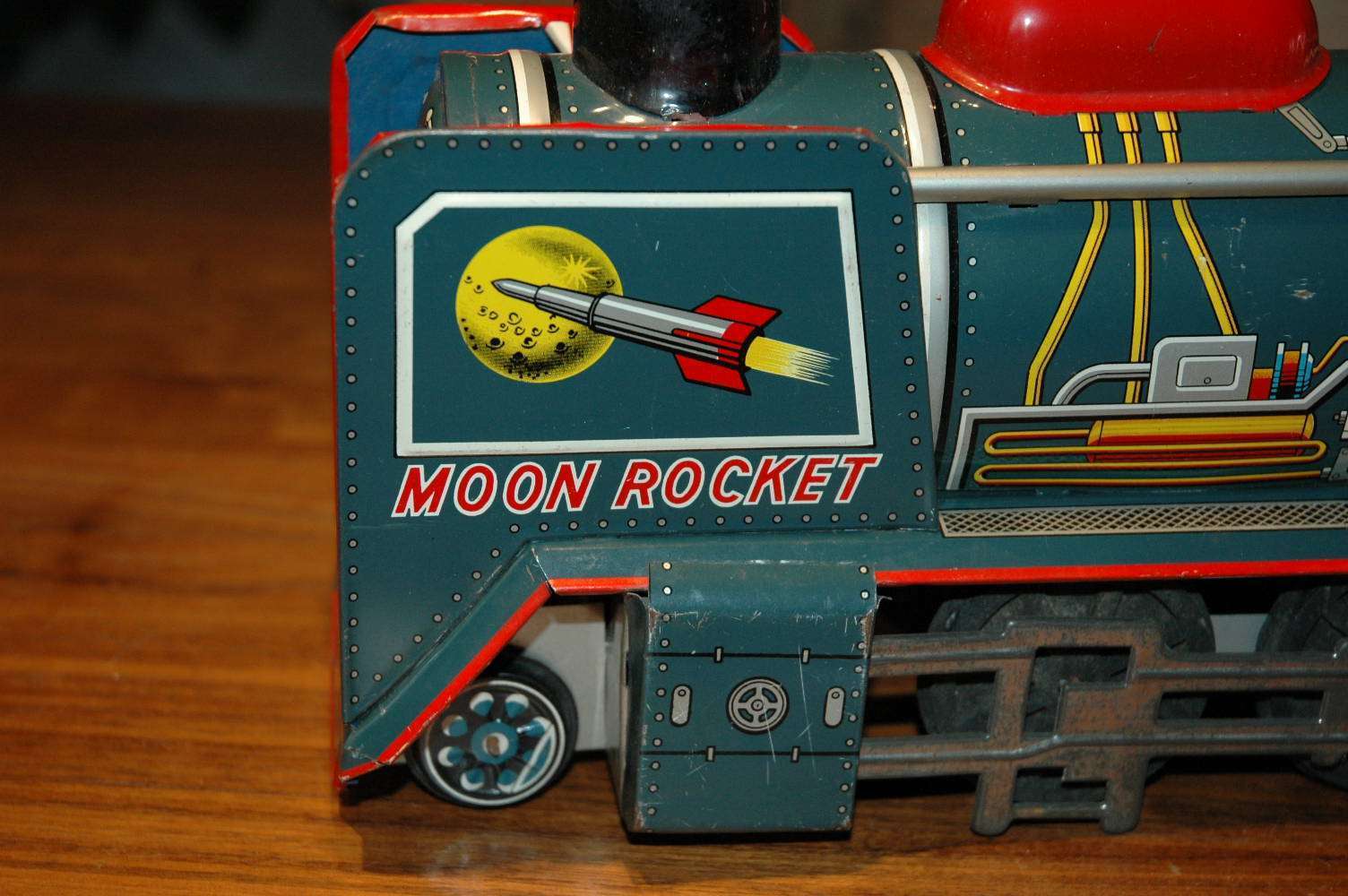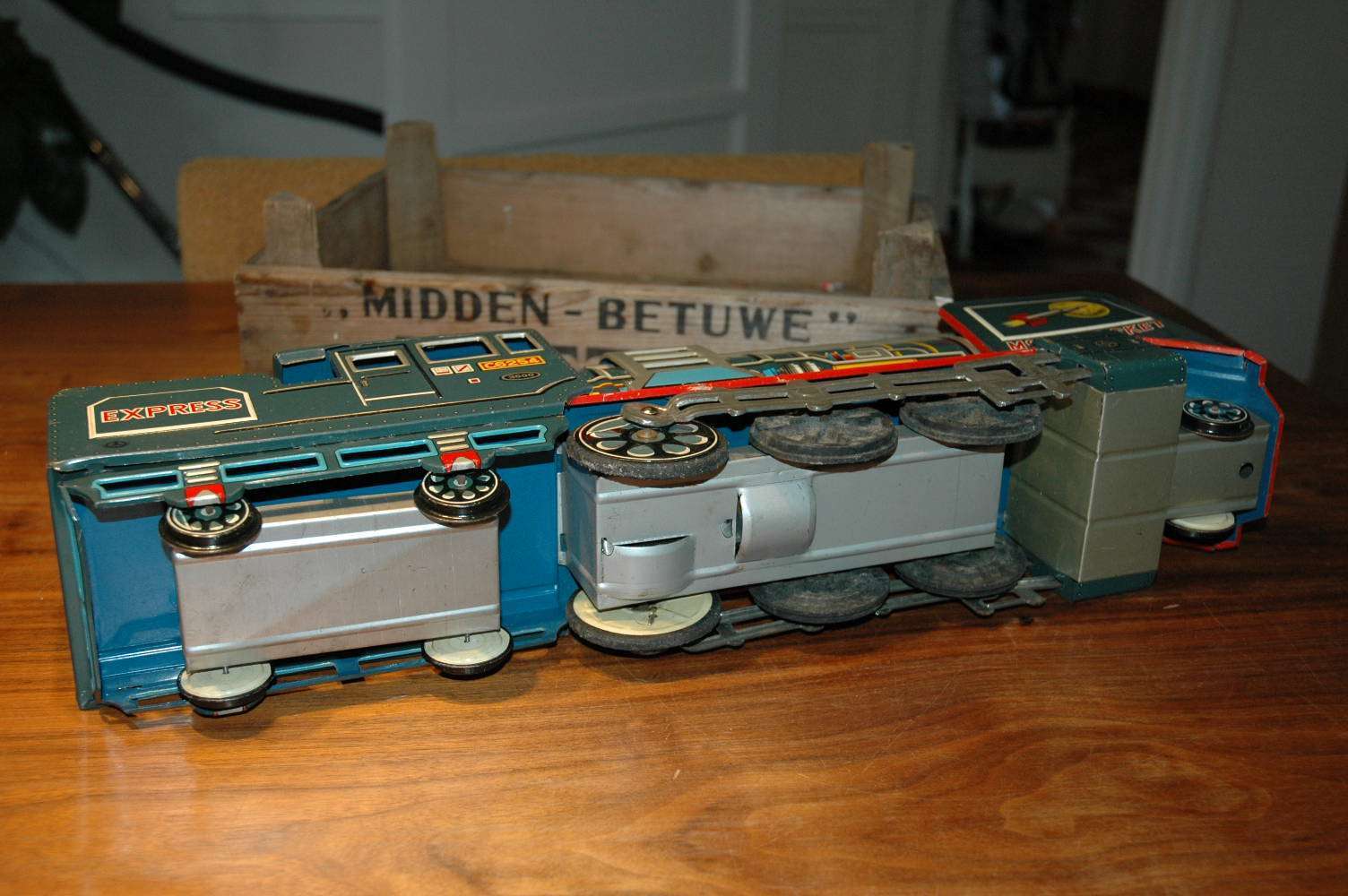 Marusan – Moon Rocket Train
I could not believe my eyes when I saw this train the first time but the box was very clear…. MOON ROCKET TRAIN. Made in the early fifties in Japan by Marsusan. ( The train is marked SAN and I found some interesting information about this company, so here we first go with that info 🙂
The Japanese word "Maru" means circle, thus the mark of SAN in a circle. But the word "San" also means three, which refers to the 3 founders of this company in 1947. Circles along with diamonds were popular logo marks for Japanese companies at that time as evidenced by the many marks we see within a circle or diamond. The roots of this company began in 1923. Their primary business was selling optical toys like toy binoculars, and telescopes. The Asakusa area of Tokyo was home to many toy companies. ( ahummmm did I just noticed the word: ASAKUSA ! ?? NEVER knew this was an area of Tokyo, so Asakusa thunder robot is named after the place in tokyo where it was made, cool ! )
I found a lot more info about Japanese toy companies and I will try to find some time to add that to this website, but first, back to the train !!
I found this one in Italy. The previous owner (selling his space toy collection ) told me this was one of the last toys he would ever sell. He bought it 20 years agoo in Japan and never saw one afterwards.  First he did not even wanted to sell it but after 3 weeks of negotiating he was willing to sell. The result is one of the most rare space toys I have ever seen in my collecting life.  I searched the internet, books, auctions, called friends, collectors…but nobody EVER saw this space train ever before…. I dare to state it's the only known example in the world. !!
What can I tell about this train… first thing that came up is back to the future part III 🙂  Its a real space toy, mysterious and ready to do its job in outer space. The train is friction powered and has a mechanism inside that I can see but i have no idea what it is supposed to do. Due to the age, its not working ( I guess 🙂  The train is BIG and totally made out of lithographed tin and looks complete and all original. Condition is still excellent and the train shows normal playwear. The box is a miracle and is original, not totally complete anymore as you can see in the pictures. Most of the top lid is there and take a look at the awesome artwork… what a beauty !!!!
The train can be put in a museum, just pick it up and place it in a vitrine for the rest of its life.. The box needs restauration first. I will contact anthony`s in the USA for this but I really think this is a MUST. The combination of this train together with its original box is out of this world !!
Plz enjoy the pictures and the info…. a tin toy treasure from the fifties… miracles DO exist :)!
Marco