Project omschrijving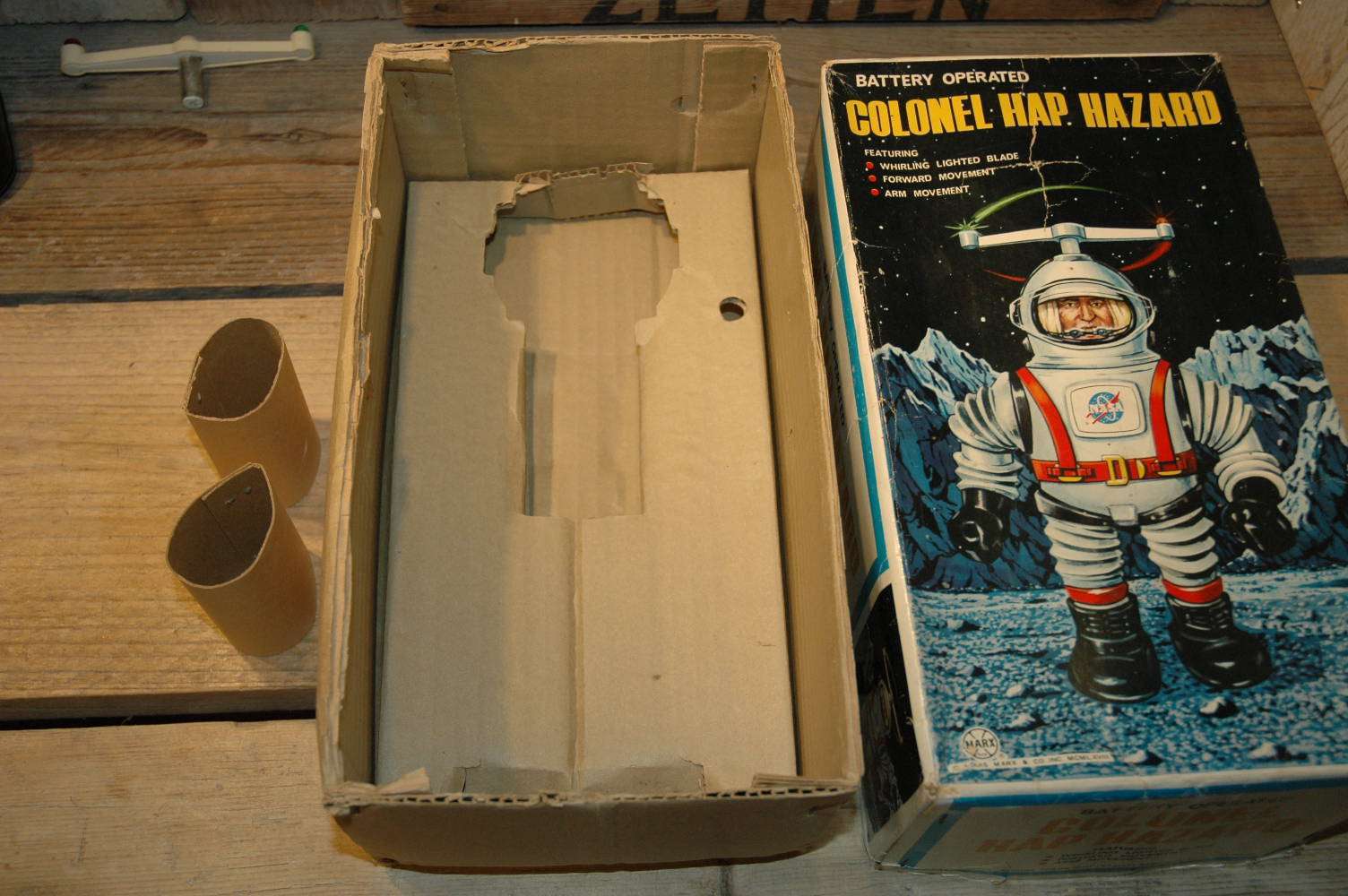 Marx – Colonel Hap Hazard
Its the face with the BIG vizir for sure that made this astronaut famous. You hate it or you love it but its making this robot special for sure. Colonel Hap Hazerd is one of the few robots that is able to walk very good and much faster then most robots. There is a spinning antenna on top which is pretty big by the way that houses 2 lights, in green and in red. Colonel Hazerd was build for Marx (Louis Marx and Co.) in Japan but its unknown who the original manufacturer was for this astronaut. My friend Martijn did some interesting research on this robot and found similar parts with the Asukasa Thunder robot.
I found this robot some time ago. It was part of a big collection of robots and spacetoys. The owner stopped collection and put most of his robots for sale. Most of them were kept in boxes for years and years.
The condition of this Colonel is near mint and in absolute pristine condition. besides a few minor scratches, there is not much else to mention on this one. perfect faceshield, absolute clean battery compartment and the robot works fine and strong. Even the original antenna is there and still lights up with green and red lights. Flawless robot, hard to ever upgrade !
The robot is accompanied by its original box, that has a tear in the front of the toplid. Overall condition of the box is absolute excellent and the tear is keeping it from higher grading. The box has all the original inserts as well.
Colonel Hap Hazard only shows up on occasion and is hard to find in its original box and in perfect working condition. This example works as new,A rare and scarce robot in this condition with original box. NO need to ever upgrade this one.
CFP: Contact me For Price   at:   boogo.nl@gmail.com