Project omschrijving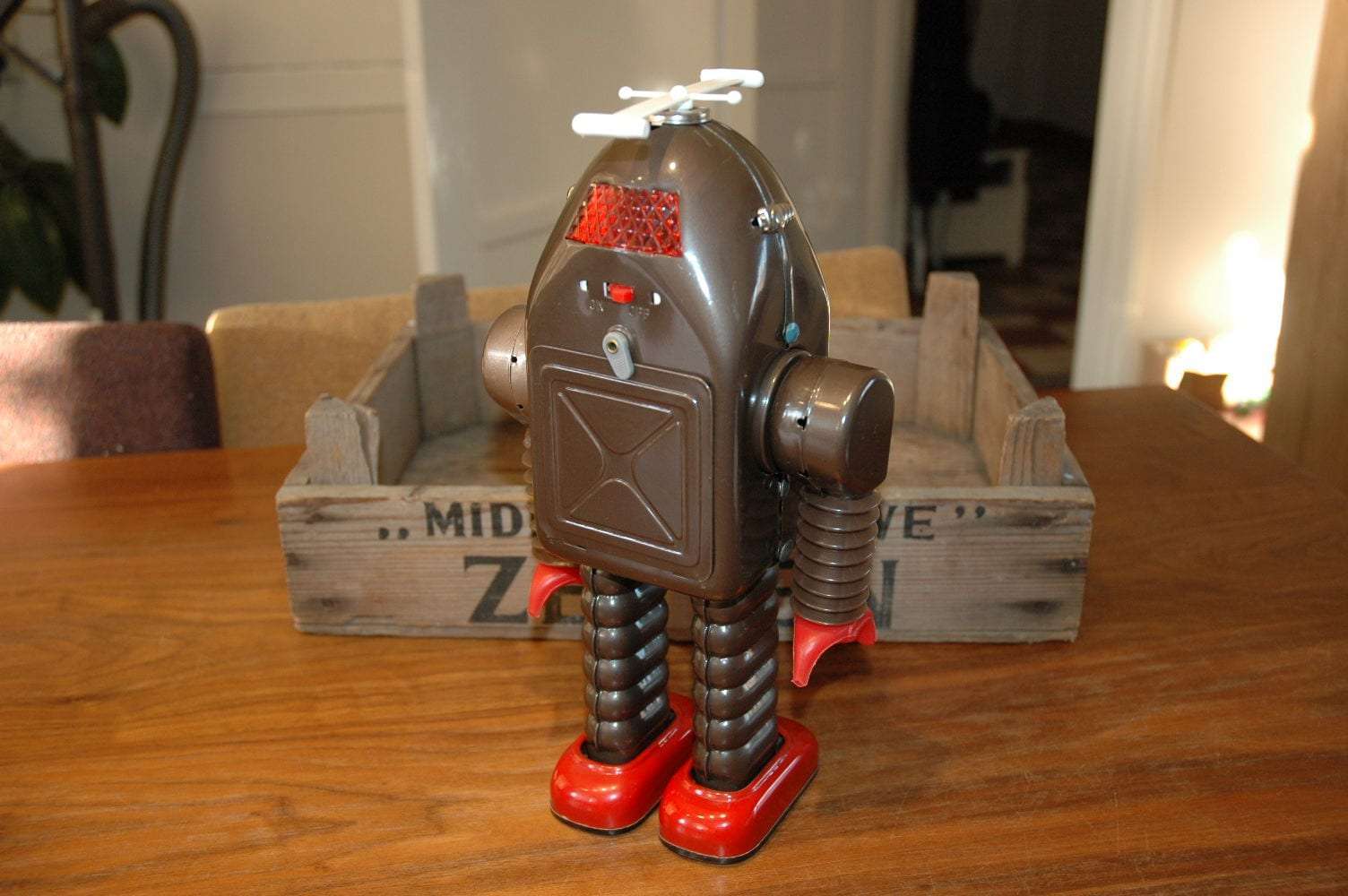 Asakusa – Thunder Robot Prototype / first test run.

Asakusa was a small Japanese Manufacturer that was mainly known for building tin Battery operated model cars. They produced ONE robot in 1957 called Thunder Robot… we all wished they produced more robots because Asakusa`s Thunder Robot became THE Robot Icon of the golden Age, the sixties.
This somewhat bullet shaped robot is all torso and no head or… no torso and all head ? We will probably never find out because there is not much know about Asakusa in Japan. The rare shape of this robot is for sure what makes this robot unique. Did the Asakusa creators found their inspiration in the Maya culture, who knows….
The actions of Thunder Robot leaves nothing to the imagination, it's made for total destruction…. Walking around Thunder Robot suddenly raises both arms and reveals 2 "hidden Guns" He starts to fire with a loud ra-ta-ta sound and shaking guns. When all enemies are destroyed, Thunder Robot lowers his arms (guns) and walks forward with flashing lights in search of new enemies.
Asakusa`s Thunder Robot is one of most copied robots from the sixties. Reproductions are mostly made in China ( Ha-ha toys )
Reproductions lack the asakusa logo stamp underneath both feet, the lenses of the eyes are different, battery compartment is different, paint, on-off switch is mounted in a different way, lights in the guns are white ( original has red lights ) and there is more…
This one however is an ORIGINAL Asakusa Thunder robot in near mint condition. I found out that this is a rare variation and probably a first run or prototype. where the "normal" thunder robot has "6 rings" of plastic around each arm, this one has 8 rings but thats not the only difference: were the normal ( 6 ring ) version simply raises his arms and start to fire his guns, the 8 ring version has a hidden feature: He first retracts his hands and then raises his arms and starts to shoot. I always believed this was more a fable. I owned several thunder robots but all with 6 rings in the arms, so the " normal "  version. THIS !! however is finally the real thing, EIGHT rings in the arm and yes….The robot first retracts his arms to reveil the hidden guns, then raises his arms and starts to shoot, VERY rare  version, probably a first run / prototype. It looks like the mechanism was just too complex and after making a test run or prototype, the factory decided not to proceed with this extra feature and produced the "normal 6 ring" version.
The condition of this very rare thunder robot is excellent to near mint. There is no rust, no dings, only VERY light playwear The battery compartment is clean but show a few cracks, and it really works as if it was made yesterday, It walks Strong with flashing lights, then stops, shows its guns and raises his arms to horizontal position, his hands retract and starts his sequence…. You will have a hell of a job to upgrade this one and best of all… This rare variation comes with the original box in great condition !
Because of a very short production run and a very poor distribution, Asakusa`s Thunder Robot became one of the "Holy Grails" of many collectors. Rare and VERY Scarce and almost impossible to find in this excellent and 100 % working condition.
This robot is for Display Only !!
If you have any questions about this robot then contact me
on boogo.nl@gmail.com
Marco