Project omschrijving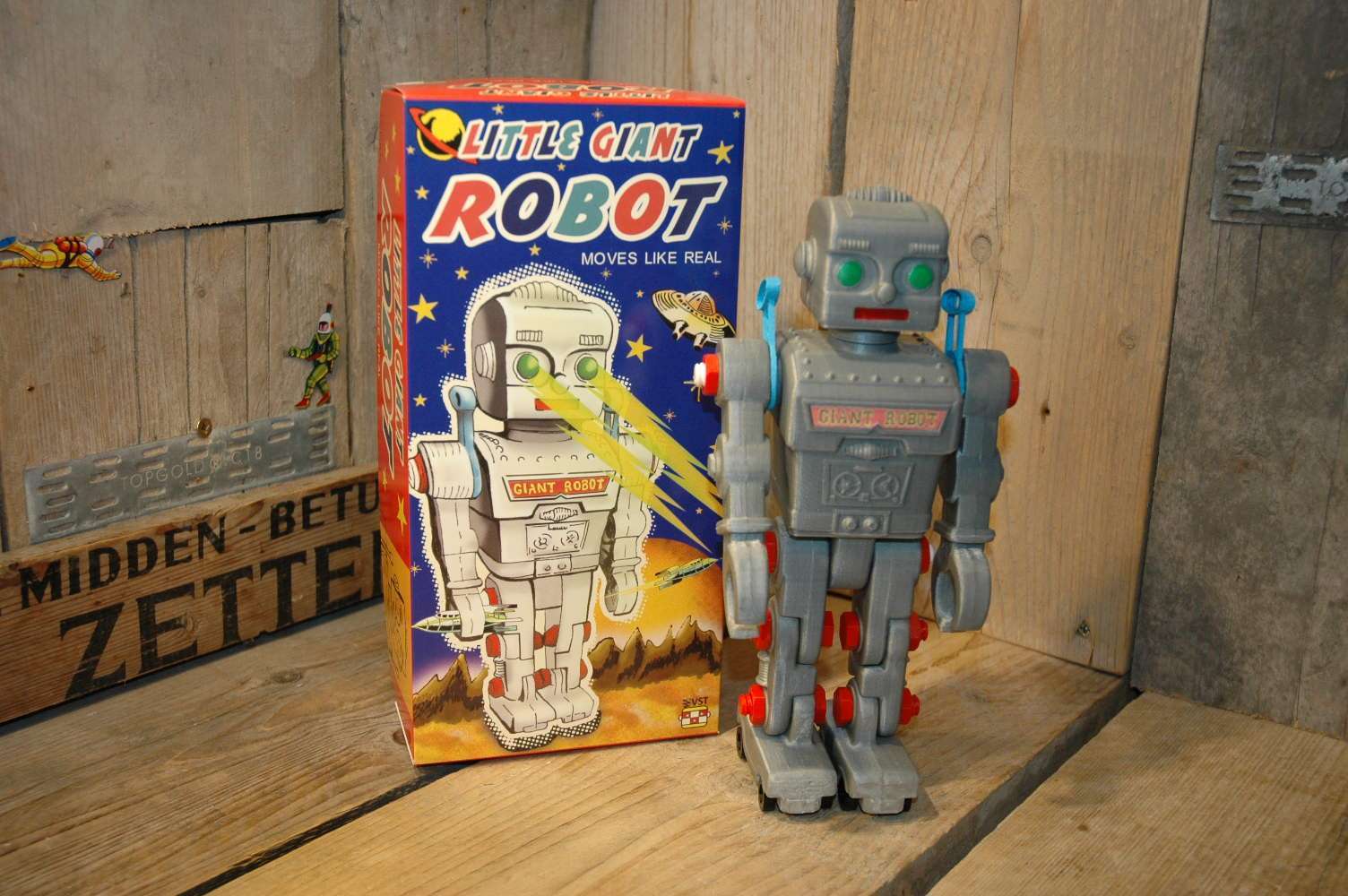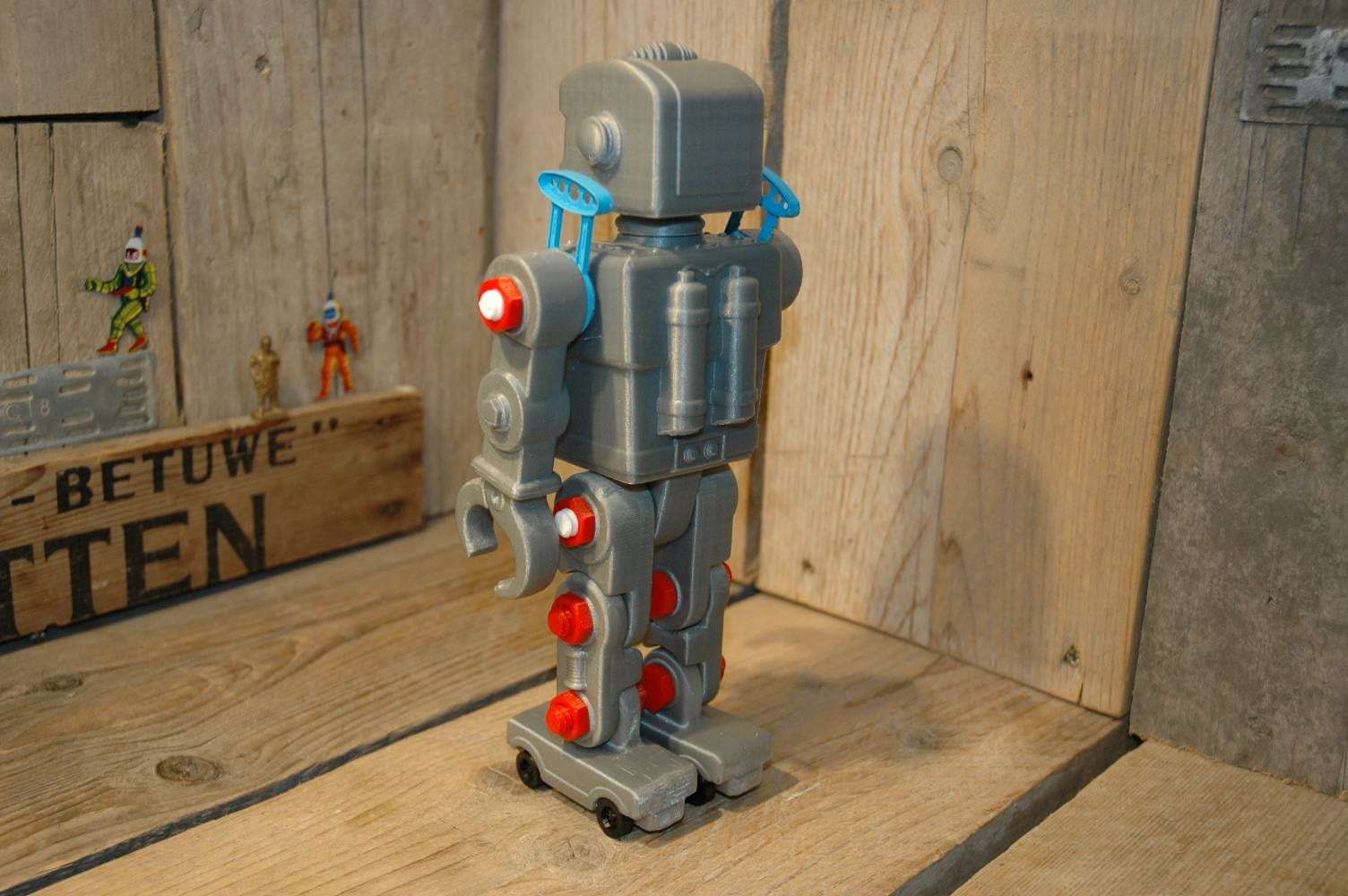 VST / Tomy – Giant Robot.
This "little" Giant Robot is probably the FIRST 3D printed, 100 % copy of a vintage robot ever made !! wow :). why a 100 % copy ?, well this robot is not drawn in 3D software, it's a highly detailed 3D scan of Tomy`s Giant Robot.
Many thought and still think, its impossible to do this in this resolution without the loss of any detail, but this project proved otherwise..
I dont want to step into the details here about this project. Its the most time roving AND expensive project i did so far… costed me many sleepless nights but its finally here…. VST / Tomy – Giant Robot, scaled back to 35 % of its original size.
This little Giant Robot is totally 3D printed in the highest possible resolution with a total printing time of 63 hours !. All the parts are separately printed in 5 different colors: grey, red, white, black and blue. Printing material is PLA ( plastic 🙂
All the parts are individually and manually scanned ( total scanning time, about 4 weeks, some parts of the robot took me days to capture in 3D in the way i was satisfied, and i can assure you.. i am not THAT easily satisfied 🙂
and than printed in 0,1 micron layer, the highest possible resolution possible these days.
To give you an idea.. only the body part ( without head, arms, legs etc ) is a printing time of 16 hours in total, and… everything must go 100 well in that timeframe… one error and the print is lost…( welcome to 3D printing 🙂
There is NO loss of detail in the 3D files and that is what makes this project so special and unique.  The eyes and mouthpiece of the robot are handpainted.
The robot is made out of 34 individual parts and works exactly as the original Tomy Giant Robot from the Sixties. It can be put together the same way as the original robot, with bolds and nuts.
Tomy – Giant Robot is an iconic rare and scarce robot and is not displayed in many collections. 2 reasons.. its very hard to find a complete one and…the robot is BIG, to big to fit on the shelves.  This 35 % scaled example has a total height of 25 CM and fits PERFECTLY on any shelf 🙂
I will make 10 of these robots in total ( over 650 printing hours so i will be busy with that for a while i guess 🙂   After that I will not make any new ones to keep this robot special and most of all, UNIQUE !.
This prototype i have pictured is number 1/10 by the way.
The robot will come with a fantastic custom designed box, made by Marcy. The box is made by a professional pressing room just like the boxes were made in the sixties. High end original box with custom made artwork, special made for this project.
Only 10 will be made. VST – Giant Robot scaled at 35 % is an absolute unique robot and project.  If you have any additional questions about this robot or this project, feel free to contact me on boogo.nl@gmail.com
My special thanks goes to Martijn en Gernot, they contributed the original robot parts so that I could make this project, reality, Thanks guys !!
Very special thanks goes to Marcy for creating the fantastic artwork for the box
CFP:  Contact me For Price    at     boogo.nl@gmail.com